Garden sails: the complete choice on Maantaoutdoor!
The sail garden awnings are a rapidly expanding category as they are economical, practical, furnish the garden and allow us to enjoy the outdoor spaces to the fullest.

They are mainly divided into two broad categories: waterproof and breathable.

The waterproof sail garden shades are made of polyester or polypropylene fabric.
During the winter it is best to leave them to dry to store them in a dry place protected from the sun, taking care to fold them neatly. The big advantage they offer is that they protect both from the sun (they are in fact also called garden sun sails) and from the rain. Just give it a nice inclination and a nice tension to allow the water to drain, all concepts well explained in our installation guide.

The breathable sails, on the other hand, are made of polyethylene (HDPE). To make the concept understood quickly, imagine a tightly woven net. It will therefore not protect us from water, but ensures better air circulation, therefore it ensures a few degrees less than the waterproof version during the summer heat.

In the panorama of garden awnings with sail, it is therefore necessary to know how to choose first of all between waterproof and shading, each of them has its specific address. If we are looking for protection from the summer heat, the HDPE mesh is better, if instead we want complete protection, as long as we feel the heat a little more, it is better to choose the waterproof version.

Maanta has been in the sails sector for over 10 years and therefore has gained sufficient experience to develop specific products for the needs of garden sails.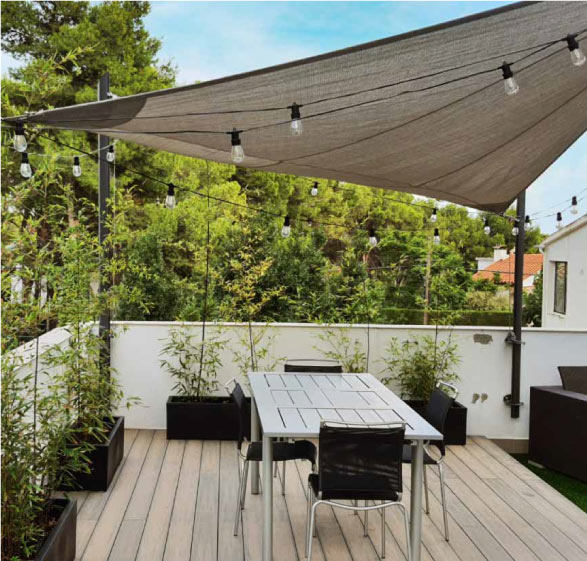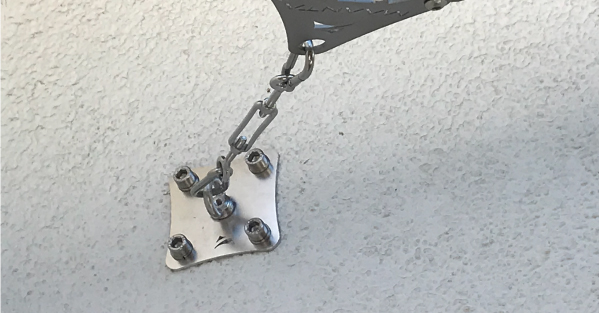 Those that are on the market come from the nautical world and are not made or designed to be anchored to a wall and ensure stability to a roof that reaches up to 150 ft² (42m²), stressed by wind and water and constantly tensioned.

What we have developed offers everything you need, plus, being designed specifically for this use, they are safer and more stable!

Discover the sturdy 93x93mm, 3mm thick plate in our shop, which can accommodate 4 sturdy dowels !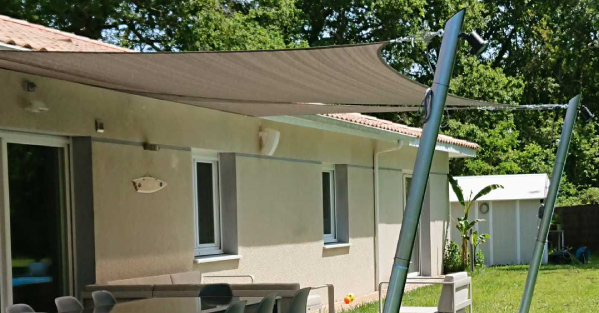 It is very useful and functional to be able to independently lower the corners of the sail shades.

Imagine in spring and autumn having the low sun that bothers you: thanks to our poles, in particular with Alu-simple, you can easily lower / raise every single vertex in 2 timed minutes and adjust every angle to define the shadow cone in based on the position of the sun!

You will therefore have the shade exactly under the awning, which is impossible if not thanks to this practical kit that we have developed.

The design of Alu-simple was created by recalling the lines of the garden sails and is therefore very sinuous and tapered.
The internal lane and the cursor will allow you to bring every single corner from a height of 2 cm from the ground to 290cm in a few moments. The sturdy 3 mm thick aluminum will be able to ensure long life and resistance against salt: aluminum does not rust!

The proposed price is really competitive if compared to what you will find on the market, as Maanta is a direct producer and sells directly to the public, without intermediaries. Usually at this price you will find banal galvanized iron pipes or wooden poles.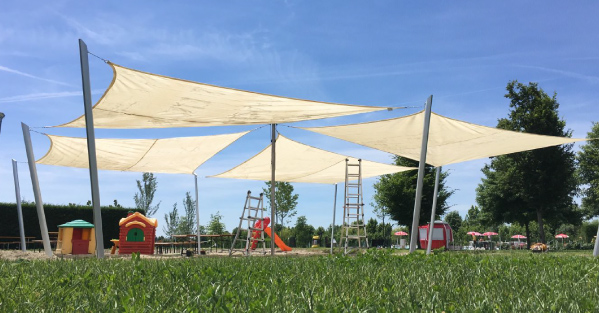 Finally, the sail garden awnings can be anchored to self-supporting structures thus creating a "sail gazebo". We have once again adopted a counter-current choice: to produce everything in Italy and not to import the classic Chinese product.

The reasons are various: thanks to these gazebos you can first of all decide the type of fabric and the color you want, which is not possible with the imported sail gazebo which is equipped with its type of fabric. Furthermore, once the fabric is exhausted you will not have to change everything, but you can simply buy a new single sail or alternate two, one waterproof and one shading.

Finally, most importantly, we use iron with a thickness of at least double that of imported gazebos, we paint in Italy with procedures that ensure better performance outdoors (greater resistance to atmospheric agents).

Our gazebo weighs twice as much as a Made in China gazebo: it is heavier because we use more material, but it is more stable and ensures a longer life!