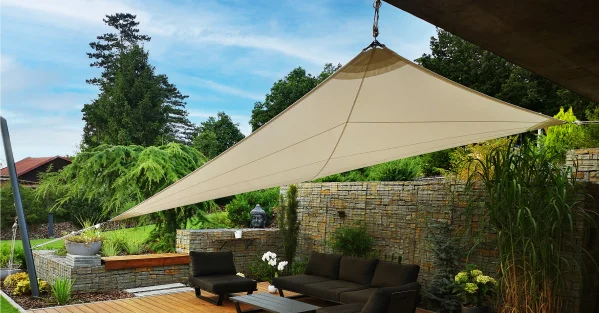 Waterproof Sails
Waterproof shade sails are made of mould-resistant polyester fabric. They protect against 95% of UV rays and are easily machine washable. On our website you will find them in different sizes and colours, square, rectangular and triangular. Over time, and thanks to the volume of sales, we have managed to produce exclusive colours and sizes, as well as improving prices and products.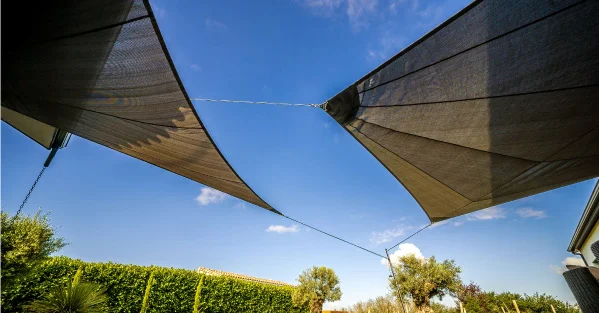 breathable sails
By outdoor shade sails we mean non-waterproof but breathable sails made of HDPE material (polyethylene). These are made of HDPE (polyethylene), a very tightly woven mesh that has one enormous advantage: it allows warm air to breathe upwards. This type of sail is particularly suitable when we want to protect ourselves from the heat, as it is more effective in this type of situation than a waterproof sail. Here, too, we have a large selection in terms of sizes and colours - just browse through our shop.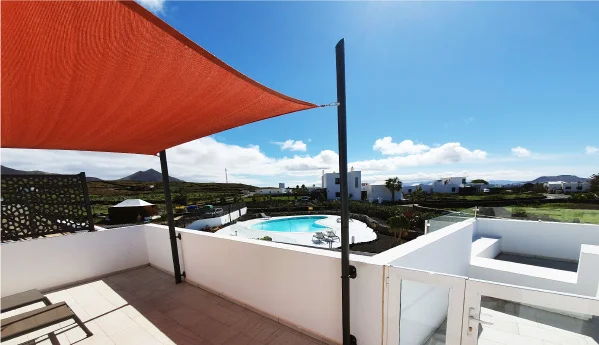 How to fix your outdoor garden sail
Outdoor sails need to be properly anchored. A primary recommendation is to lower the waterproof sails at an angle of at least 25% in order to allow rainwater to drain away as efficiently as possible. In our guide you will find all the information you need to anchor these covers. Be careful, however, about the type of anchorage you buy. There are huge differences between products on the market. Not all poles allow the individual angles of each sail to be raised and lowered as independently as our exclusive anchor kit. It is made of sturdy aluminium, is completely salt-proof (aluminium does not rust!) and each pole has two lanes: one for sliding the sail hook and the second for hooking another sail or for attaching a safety stay. It has a design that is very reminiscent of the tapered shape of outdoor shade sails and is an exclusive Maanta product that you will only find on our website!

There are also many differences between wall anchors. On the market you will find plates that have been adapted and designed for other sectors, very often nautical. We have developed something robust that will anchor the sails firmly to any type of wall. The steel is 3 mm thick (as opposed to 2 mm for the competition), the dimensions are larger (10x10 cm as opposed to 8x5 cm for the competition) and it has 4 holes that can accommodate well-dimensioned M10 threaded rods (as opposed to the holes of the competition which can accommodate up to M6). All this for only 12.95 euro in the galvanised version and 19.95 in the stainless steel version!
Gazebo sails and retractable roll-up outdoor sails
The shade sail for gazebo are self-supporting instead: they are installed in a few steps and inside they can accommodate standard sails. You can then choose the 'skeleton' and match the sail to the type of fabric and colour you want! They are entirely made and painted in Italy: they weigh twice as much per square metre as imported tents, which means they are stronger, more resistant to the elements and more durable. Moreover, as they are 'untied' from the covering fabric, once time has worn out the sail we can simply replace it, while still keeping the structure in good condition! The paintwork is made in Italy using high quality products to ensure better resistance to normal wear and tear of products that are always exposed to the outside.

The retractable shade sails are manufactured by our sister company BegA outdoor. With the latest patent we have developed, we have been able to cover areas up to 75 square metres thanks to the fact that the patent obtained on the tensioning mechanism allows the covering fabric to fight much more effectively, thanks to the constant tension to which it is subjected. Each product is tailor-made, Somfy motorised. The choice is between the world's most prestigious Dacron and Weathermax fabric, the best polyester available. You can get more information by browsing the catalogue at this link or by watching some videos on the youtube channel.

Maanta: maximum choice in outdoor sails