Easy Clear
Clear Vinyl PVC Roller Blind
Easy Clear is a clear vinyl outdoor shade made with 610 g/m² PVC .
This material is elegant and soft to the touch but at the same time extremely robust and suitable for sheltering from harsh winters. Ideal for taking advantage of the porch, terrace, balcony or to close off one side of the pergola.
"Clear" transparent PVC vinyl film: 610 g/m²
Reinforcement profile included*
Aluminium roll and 304 stainless steel fixing plates
Excellent mechanical qualities and tear resistance
Made in Italy
It is delivered disassembled so that the roller and each of its components can be easily transported even to the highest floors.
*All roller shades higher than 110cm are already supplied with an aluminum reinforcement profile.
Choose your accessories and get a 5% discount on the total price!
Description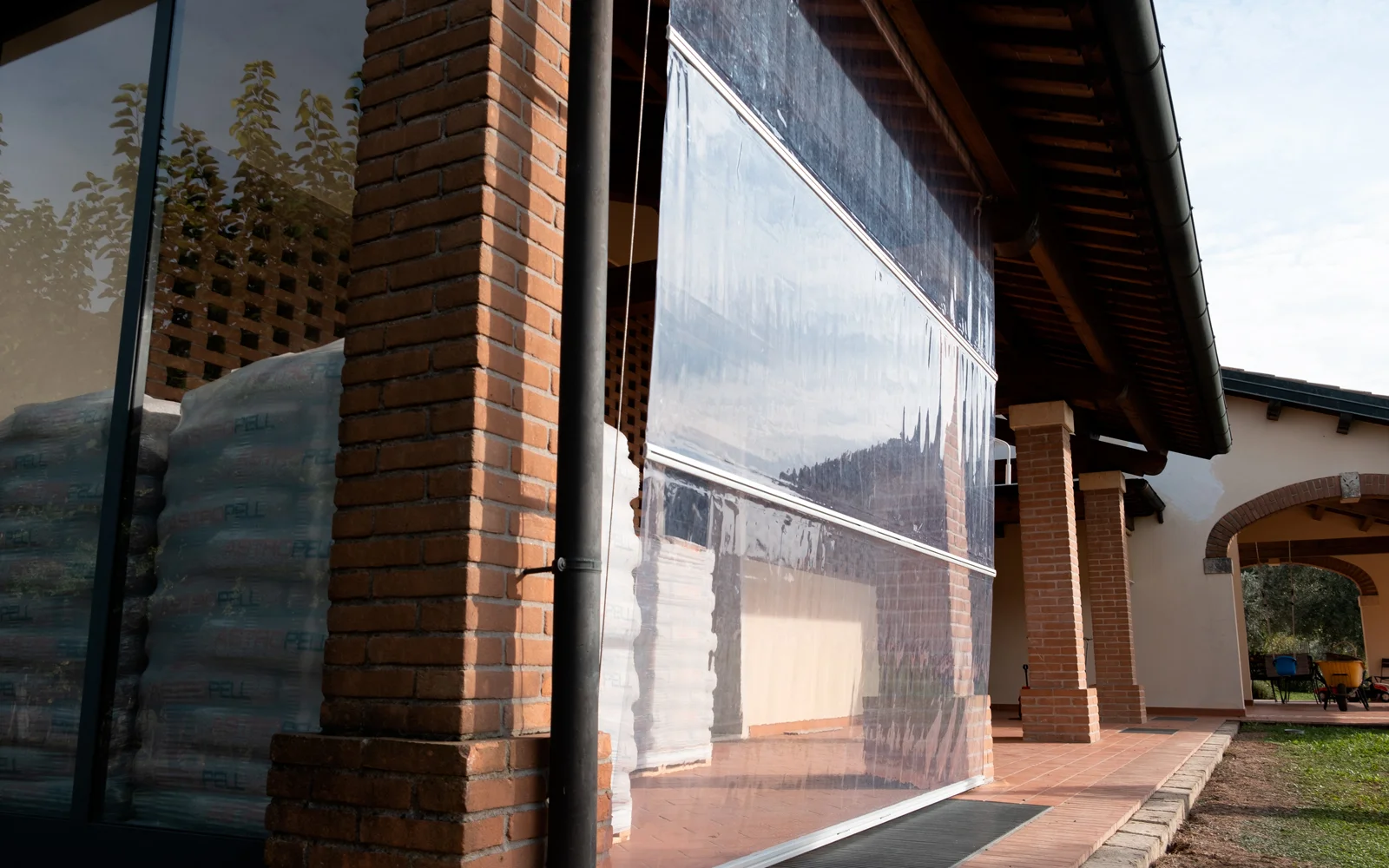 EASY CLEAR: vinyl roller shade made with Clear Pvc.
Easy Clear is Maanta's clear vinyl roller blind, which combines sturdiness and quality with an unbeatable price. Ideal for those looking for a practical and safe solution to immediately insulate outdoor spaces such as: pergolas, porches, balconies, terraces and dehors, protecting them from rain, humidity and dirt.

In this way you can give new life to your outdoor space, even in the winter months.
The Easy Clear clear outdoor shade entirely produced in Italy and is custom made to adapt perfectly to your needs! Just enter the measurements of the spaces to be protected and our configurator will provide you with an immediate and free estimate.

Installation is easy and requires no special knowledge. In no time you will have built your coverage. Just follow our
online guides, video tutorials
or rely on our customer care service.
Convert the Clear PVC shade into an outdoor roller shade with shading fabric in seconds and use it even in summer!
EasySwitch is the system that allows our roller shade to interchange the fabric in just a few minutes. You won't have to waste days disassembling the roller and replacing the whole system, just remove the transparent sheet with one simple move.


Remember, you can also order it at a later date.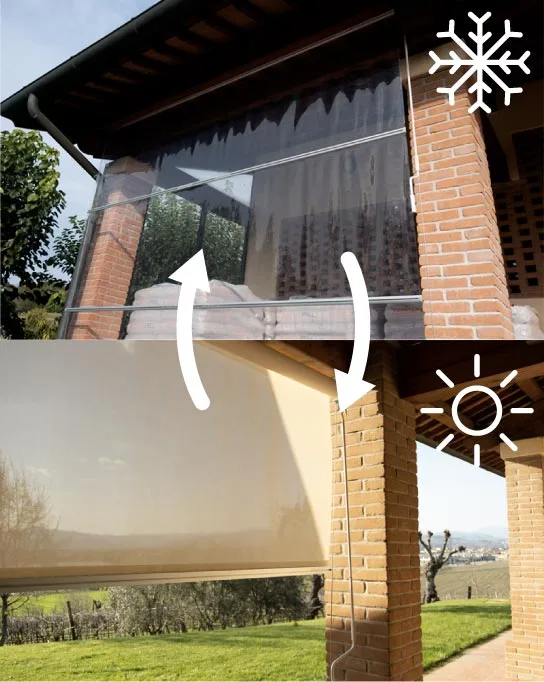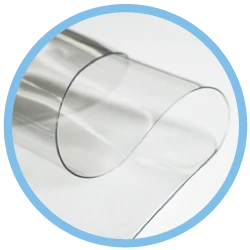 We use 610 g/m² PVC Clear fabric: an extremely robust material, but at the same time elegant and soft to the touch.
"Clear" has excellent mechanical properties, acts as a thermal insulator, ensures protection from wind, water and humidity. But that's not all: through the EasySwitch® system it will be possible to replace the transparent PVC sheet with a shading sheet in a few minutes.
This system is the only one that allows you to replace the fabric in less than 3 minutes and without removing the roller!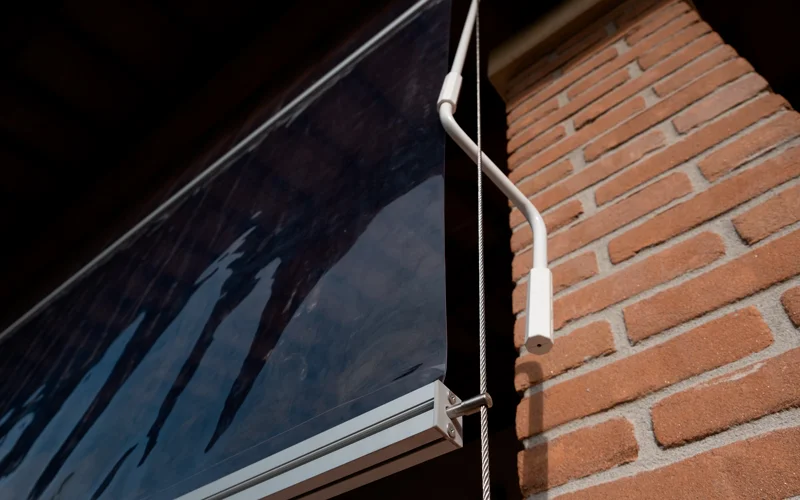 Easy Clear can be configured in a version with side cables.

These allow you to keep the canvas at half height and ensure that it does not flap in the wind causing damage.

This version is compatible with the 12v-Motor.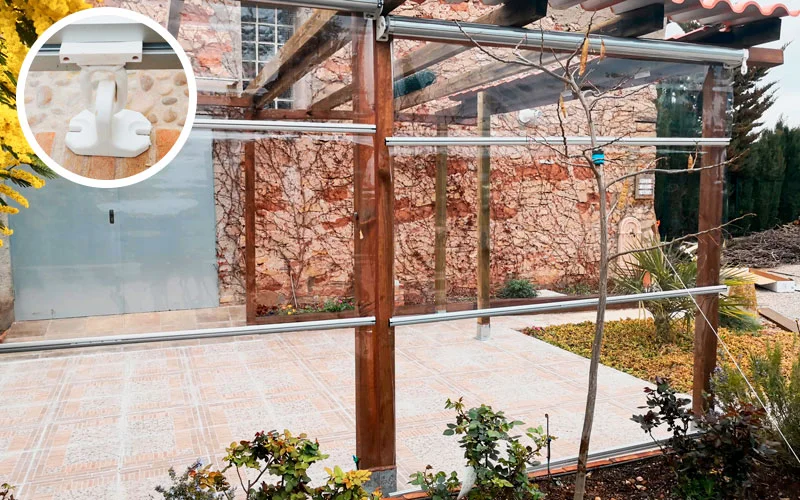 VERSION WITH FLOOR HOOKS
Easy Clear can be configured in a version with floor hooks.

The roller shade can be fixed to the floor and it will be necessary to unhook it manually before rolling it up.

We do not recommend motorising this version.
BENEFITS
INCREASED ROLLER DIAMETER
The extra robust profile with a diameter of 75 mm and an aluminum thickness of 2 mm, is specially oversized to give stability and safety even in case of bad weather.
REINFORCEMENT PROFILE INCLUDED
all the "Easy Clear" shades with a height of more than 110 cm are made with an aluminum stabilizing profile included in the price. This makes the vertical awning much more stable in windy conditions.
WEIGHT BAR IN ALUMINIUM
The final profile usually consists of a plastic tube. In our case it has been replaced with an aluminum profile which gives stability and safety even in case of wind and bad weather.

STAINLESS STEEL BRACKETS
The fixing plates of the winder roller are made in Italy in 304 stainless steel and allow the installation of the maneuvering system (motor or winch with rod) either on the right or on the left.
They can be installed on the ceiling or wall and allow multiple and therefore series installation.
EASYSWITCH®
The system allows you to replace the clear vinyl sheet with a shading fabric in the summer, for example with a
Braidd5®
or
Purishade®
.
Replacement is possible in just a few seconds and without the need to remove the winder roller.

MODULAR SYSTEM
If you are scared of costs but don't want to give up on quality, our modular system allows you to add the motor, the solar panel and many other accessories at a later date.
TAILOR-MADE
Easy Clear is available made-to-measure at a competitive price. Configure it directly above by entering the actual measurements available.
EASE OF UNLOADING AND ASSEMBLY
Upon receipt of the goods, there will be no need for forklifts. Assembly will take two hours in two people!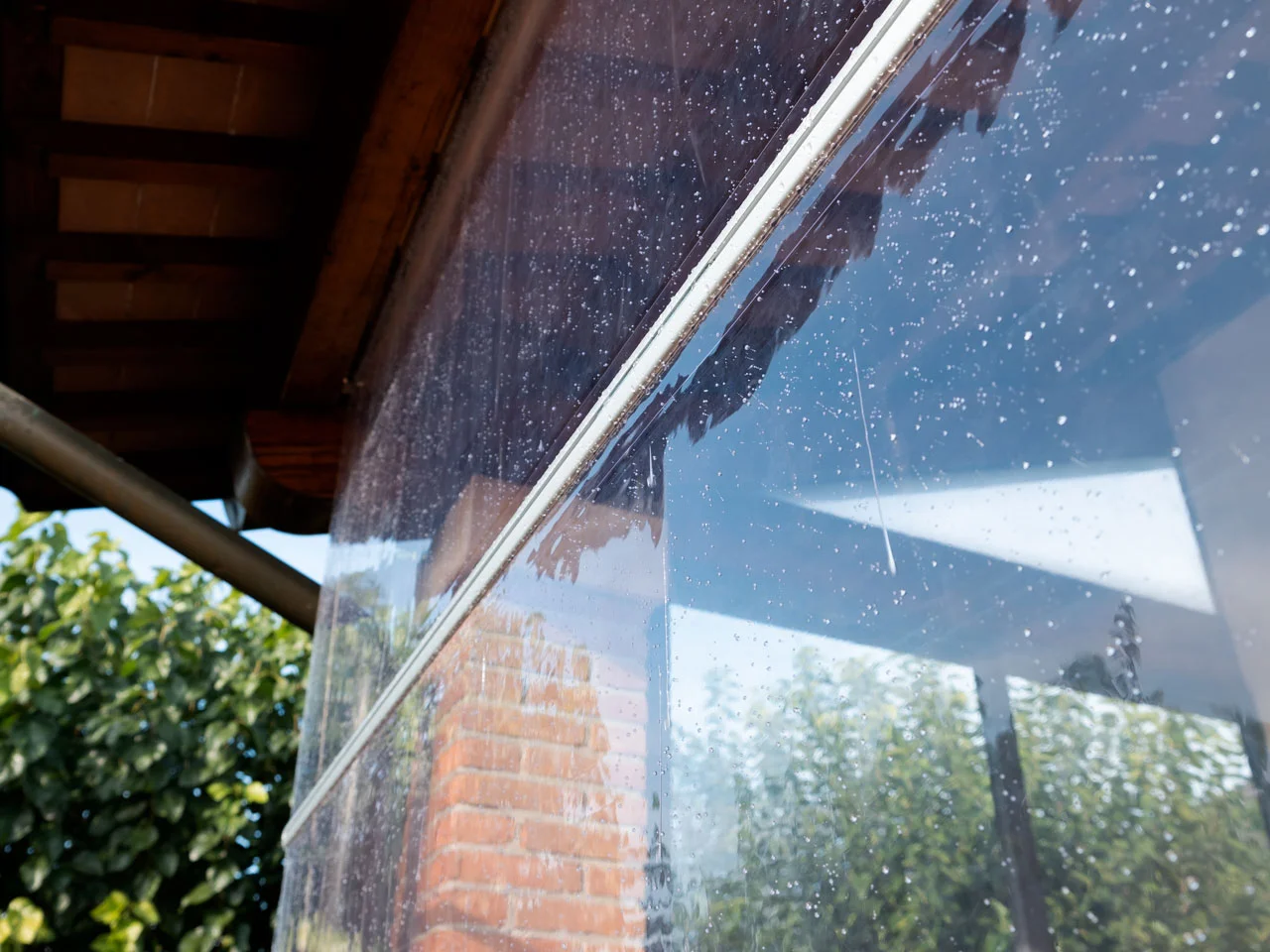 Data sheet
EASY CLEAR: Clear vinyl outdoor roller shade made with 610 g/m² PVC .
Easy Clear is an outdoor roller shade with transparent PVC fabric. Its applications are on pergolas, porches but also on terraces and balconies to replace the classic arm awnings.

The aluminium roller profile is designed and drawn by our research and development team with an extra-large diameter. The side cables are in stainless steel to avoid rust problems.

Easy Clear is sold complete with all the accessories necessary for manual operation.

DATA SHEET
Model

Easy Clear

Available sizes

Custom made only

Overall weight

Variable according to the dimensions chosen

FABRICS

Fabric types

Clear®: Transparent PVC Vinyl film

Fabric weight

Clear®: 610 g/m²

Yes, the seams are heat sealed

Tear resistance / hail resistance

STRUCTURE

Aluminum roller and terminal

Material: Aluminum

Color: Silver

Winder support plates

Material: 316 stainless steel

Color: Stainless steel

Available versions

With lateral cables or with floor hooks

PACKAGING
Box sizes

Minimum 2 boxes, maximum size 156 x 25 x 17 cm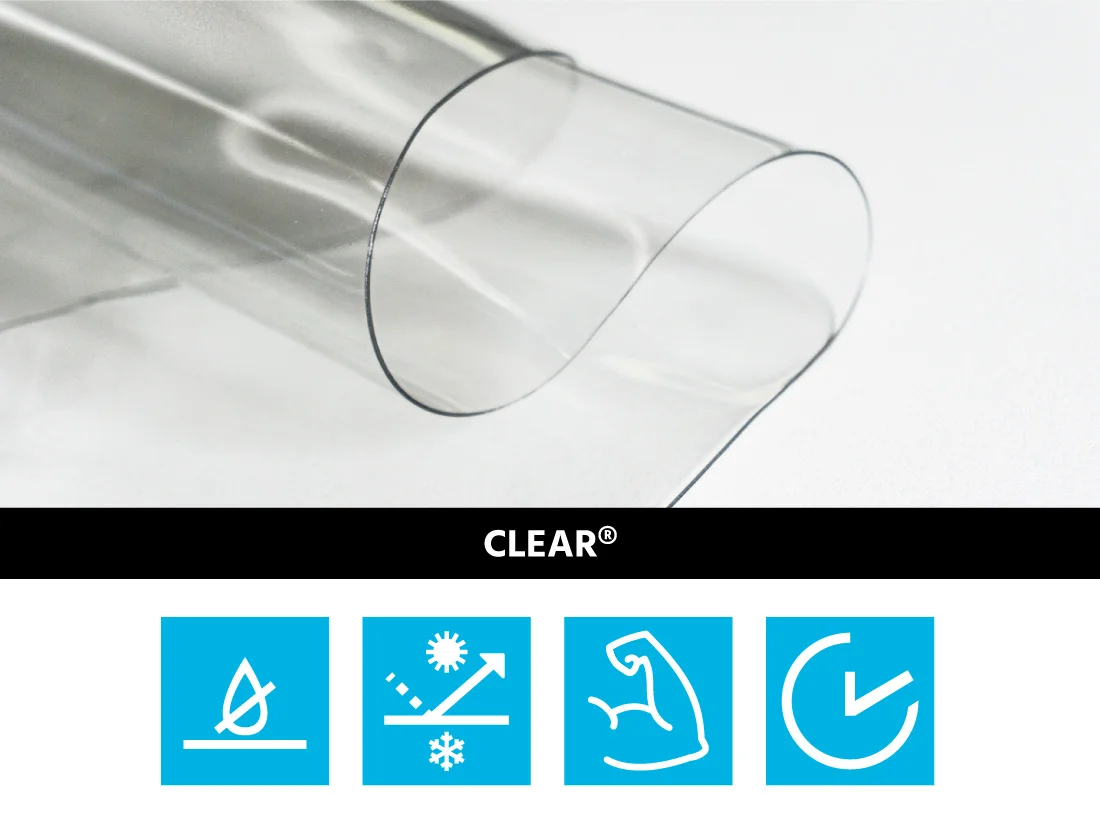 CLEAR VINYL PVC 610 g.
The Clear 610 g fabric is a transparent PVC vinyl resin film. This material is extremely light, resistant to bad weather and UV rays. Clear is also an excellent thermal insulator and is free from harmful chemicals.

The excellent mechanical qualities ensure a very high tear resistance, while maintaining softness to the touch.

Thanks to the transparent vinyl film, the Easy Clear PVC roller blinds allow you to create a protected and sheltered environment without losing the panoramic view and giving up natural light. With Easy Clear you can protect your outdoor spaces from the cold and rain and create an area to share with friends and relatives!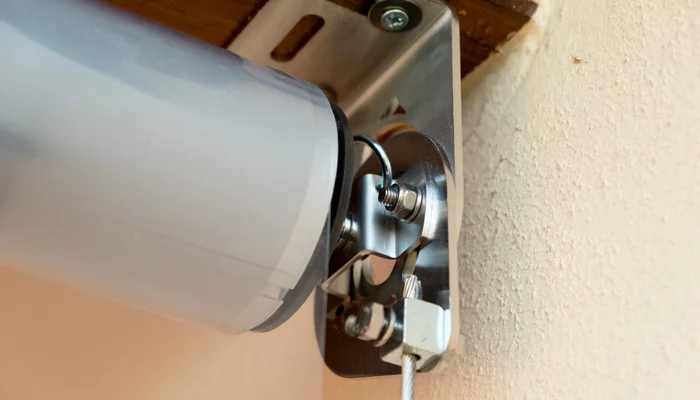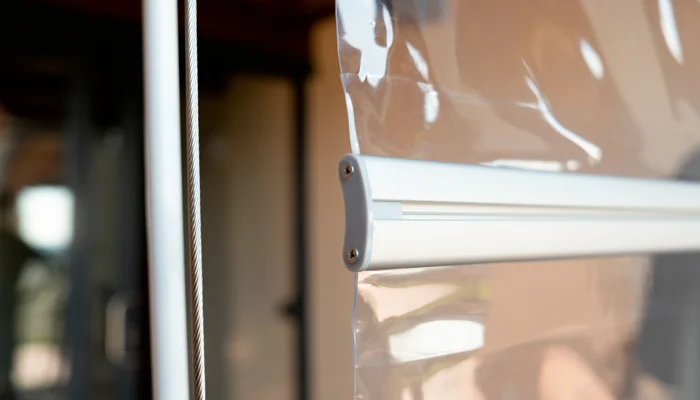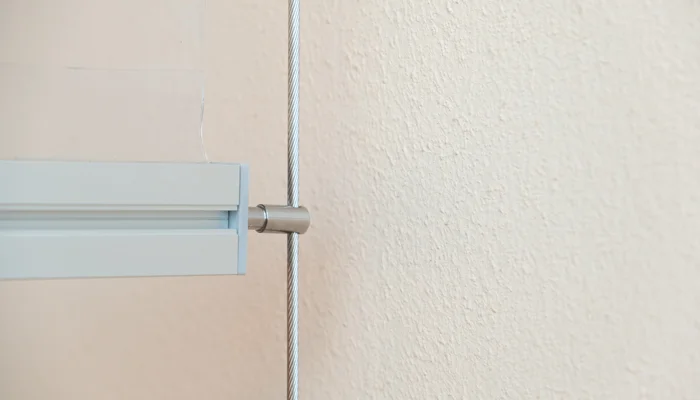 Package contents
PACKAGE CONTENTS
On this page you will find the included items, optionals, and accessories.
Easy Clear includes all the accessories needed for manual (crank) operation.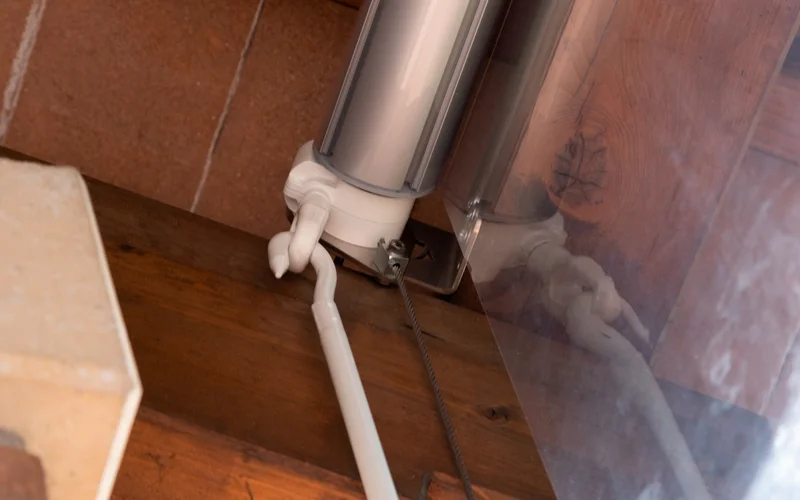 WINDER ROLLER AND OPERATING CRANK
The roller is the heart of the rolling system, with a unique technical design, with a diameter of 75 millimeters, it allows you to roll up vertical blinds with a maximum width of 350 x 350cm.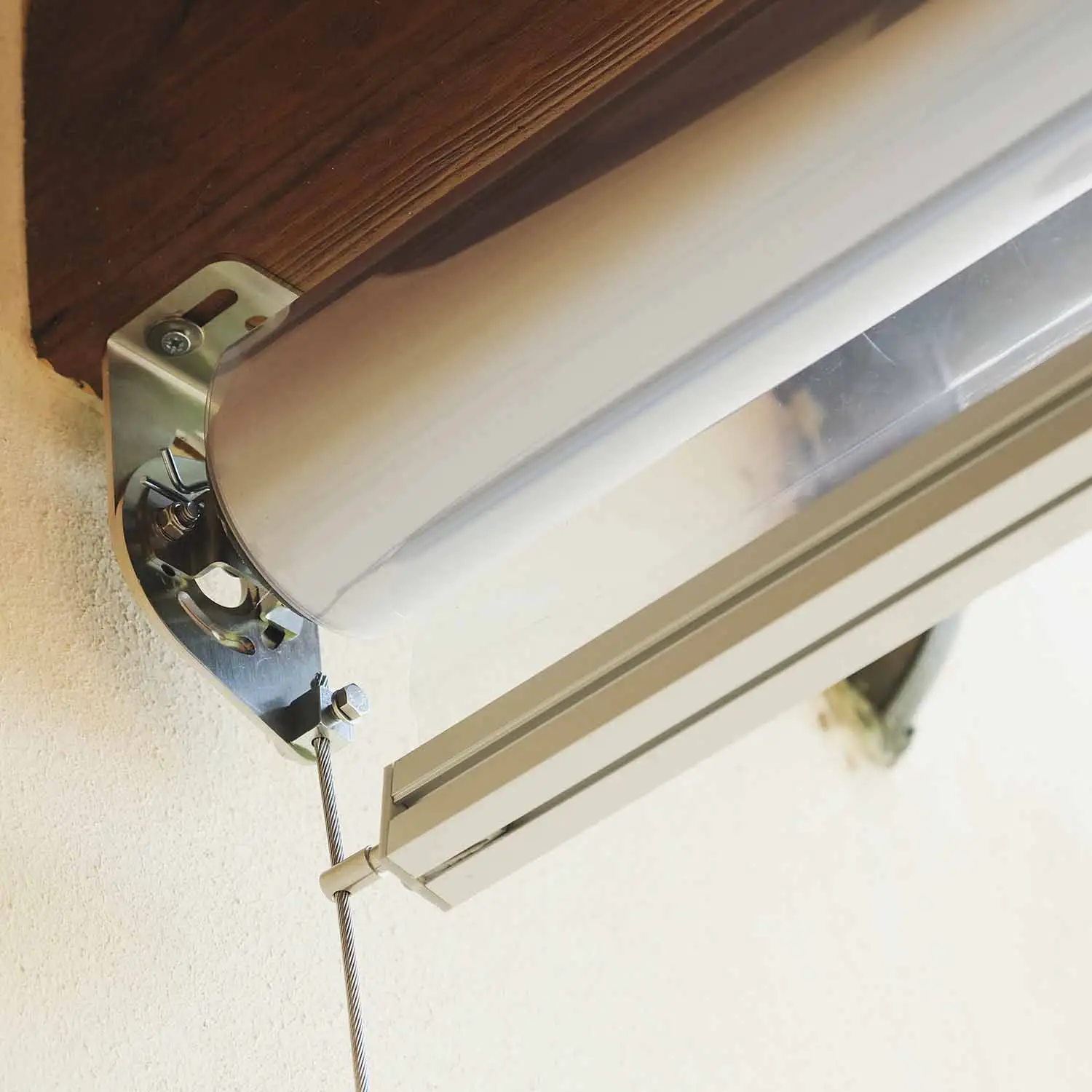 FIXING PLATES
The roller support plates are designed by Maanta and produced in Italy. They are made of 304 stainless steel and thanks to their modularity they can be fixed to the ceiling or perpendicular to the wall. They can also support compositions of vertical blinds (advise in the order notes).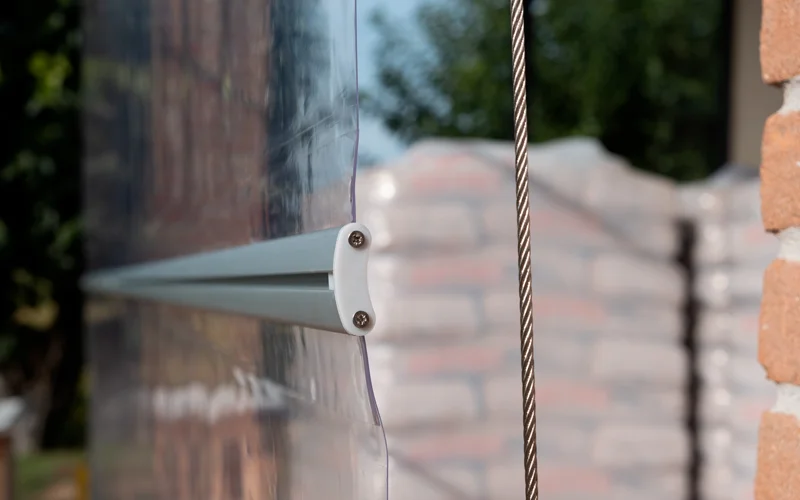 REINFORCEMENT BAR
Included for all awnings over 110 cm high.
They guarantee sturdiness and safety in case of wind.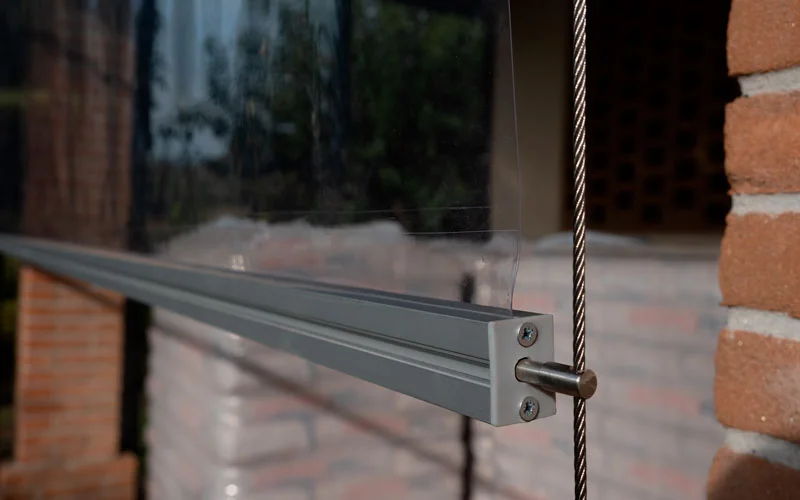 The weight bar is made in aluminium with a special Maanta design. It allows the roller shade to be very stable even in strong winds.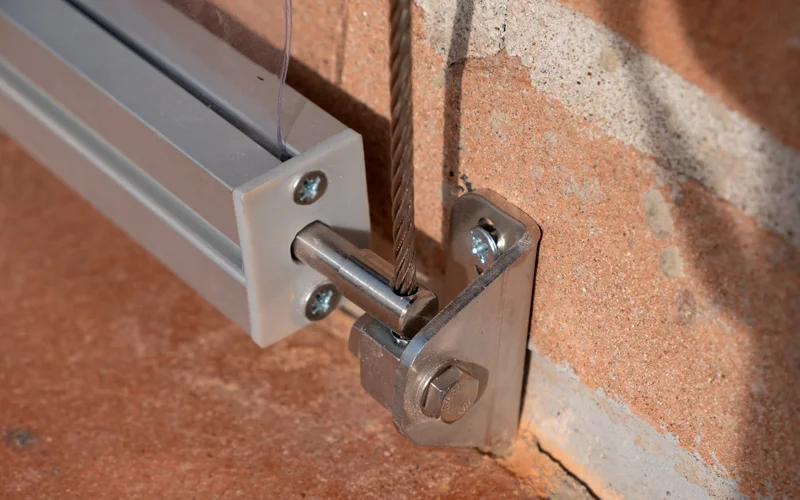 SIDE CABLES (ONLY FOR VERSION WITH CABLES)
The side cables are in 304 stainless steel, they are already supplied cut to size and allow excellent wind resistance.

OPTIONAL ACCESSORIES
A number of optional accessories are available. The following accessories are recommended only in the version with side cables.
You can find all the accessories in the appropriate category "accessories for roller shades".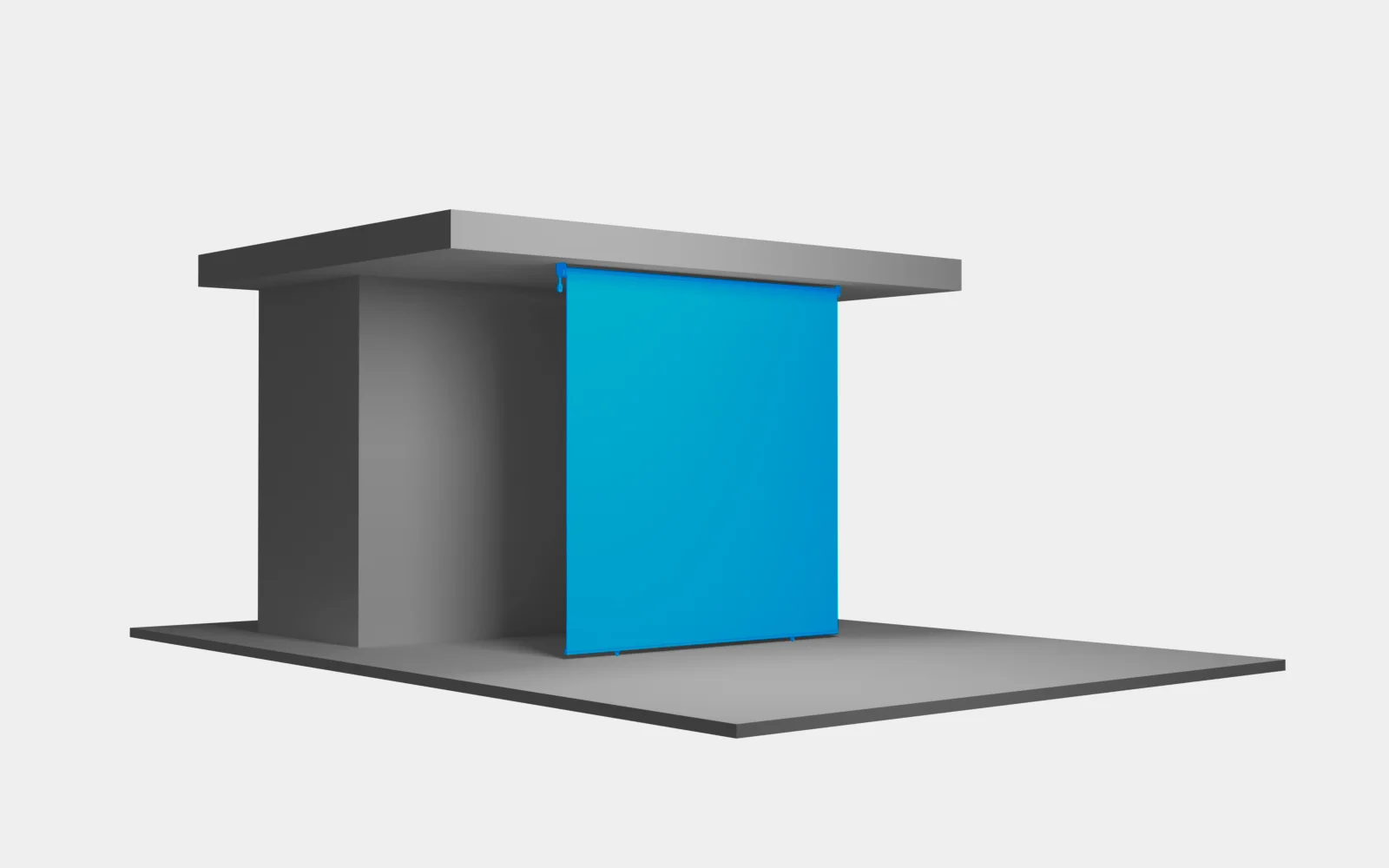 Single ceiling installation
In this example Easy Clear was installed on the ceiling.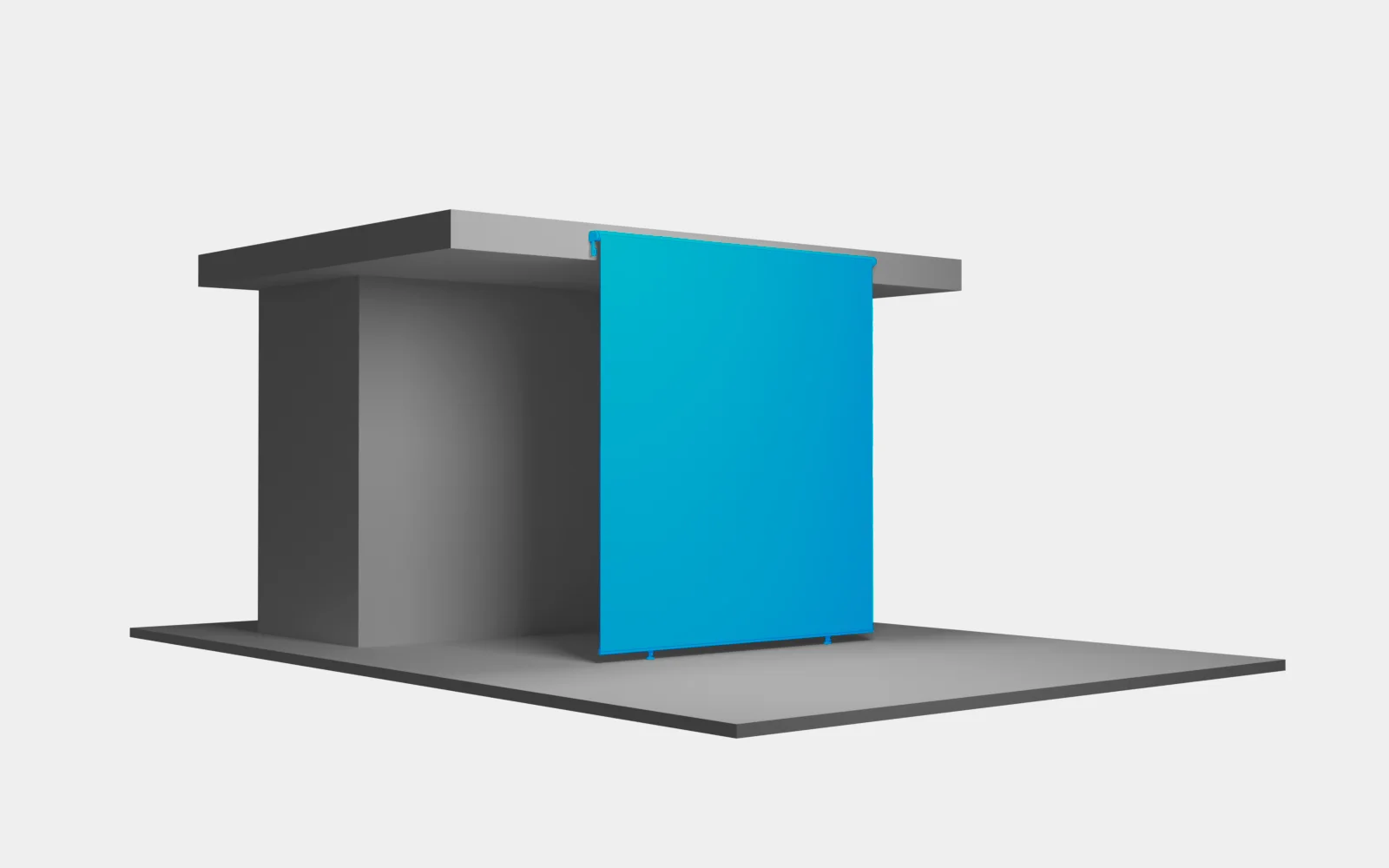 Single installation on vertical wall
In this example Easy Clear was installed on a vertical wall thanks to the modular plates included in the standard equipment.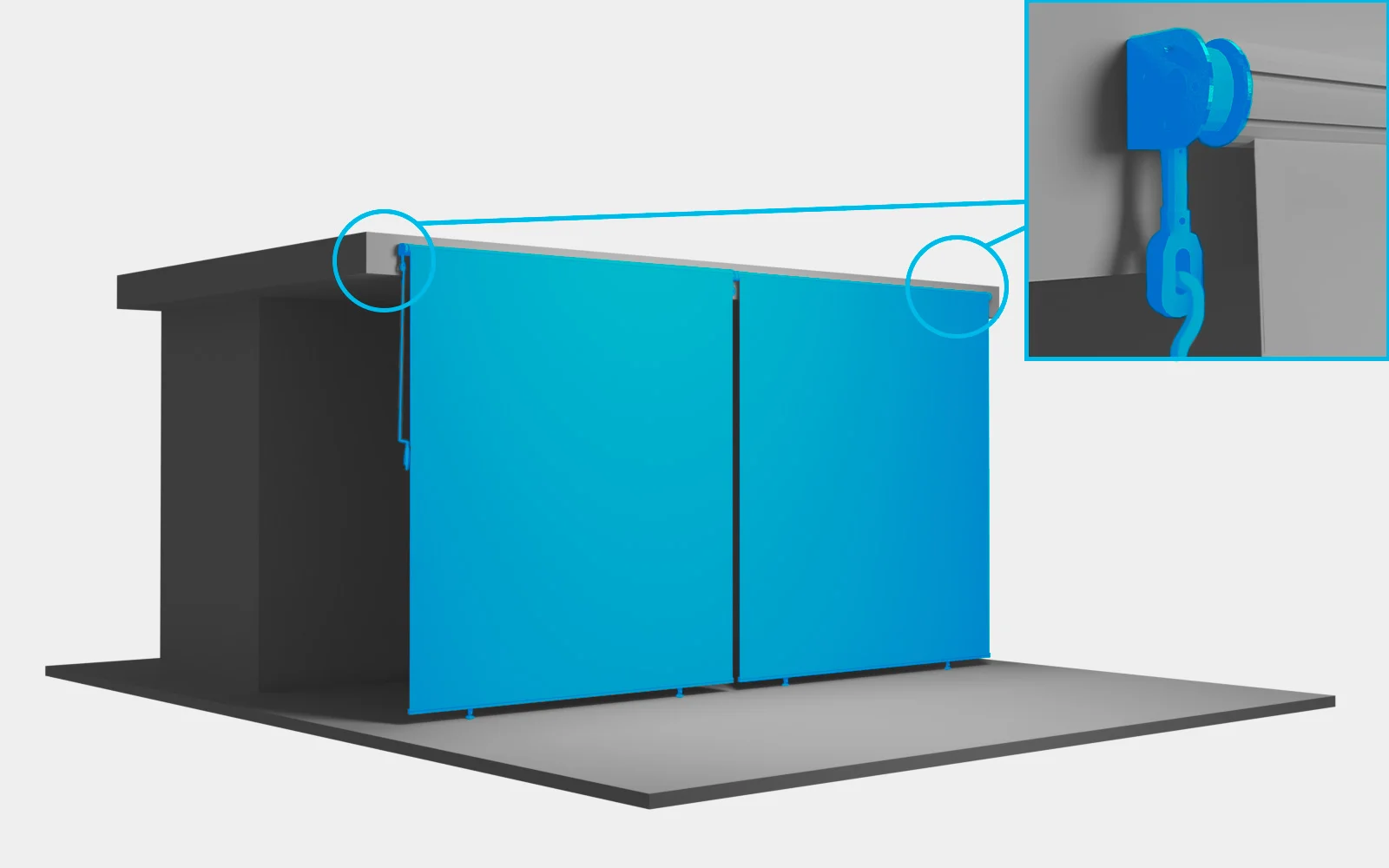 Multiple installation in series
The supplied plates can be used to install multiple roller blinds.
In this case the winches with operating crank, or 12v motor, must be installed on the two external sides.
Go to the additional plate page
Instructions & Info
PRODUCT ASSEMBLY VIDEO
Assembling Easy Clear is simple and does not require skilled labor or special equipment.

The assembly procedure is similar to the Reef Roll model; we therefore refer you to this installation video.
ASSEMBLY INSTRUCTIONS IN PDF FORMAT
The Maistra pergola is from
easy installation
even for the less experienced do-it-yourselfer.
Our research and development team is always keen to make functional components that are easy to assemble while maintaining a distinctive design.
Components
of complex assembly
Are supplied pre-assembled.
Inside the package are supplied the
paper instructions.
Also available and downloadable are the
Instructions in PDF format, download available here
These versions are constantly updated based on feedback from buyers.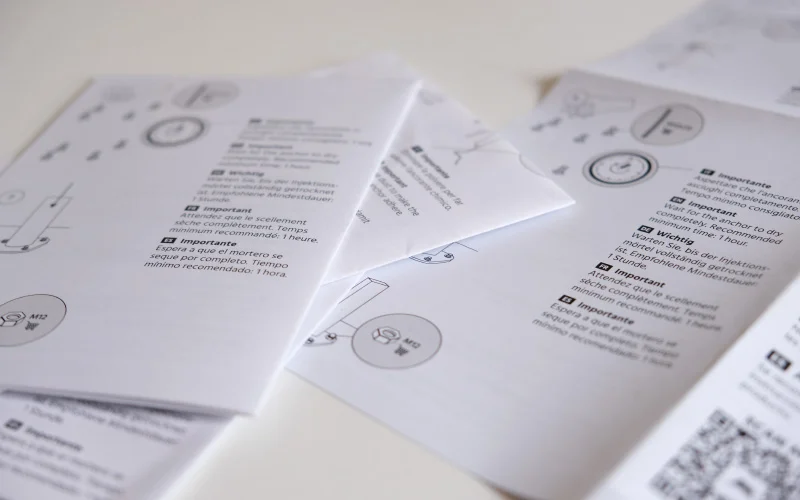 MAIN ASSEMBLY PHASES OF EASY CLEAR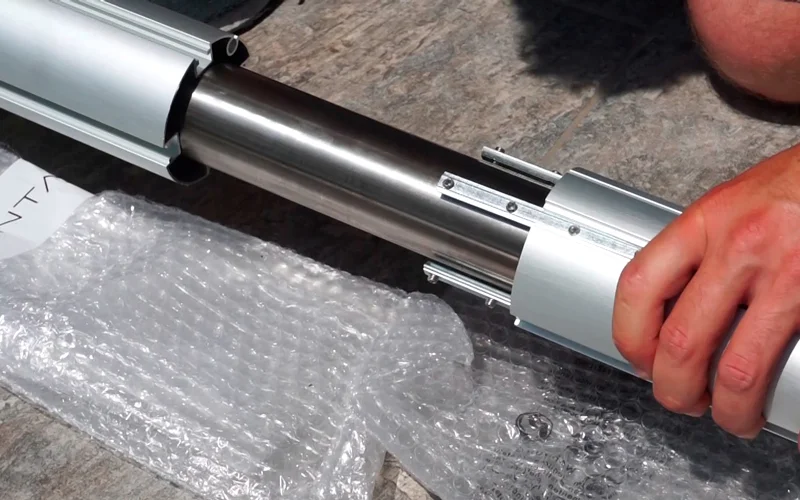 1 - ASSEMBLING THE ROLLER
It is delivered disassembled so that the roller and each of its components can be easily transported even to the highest floors.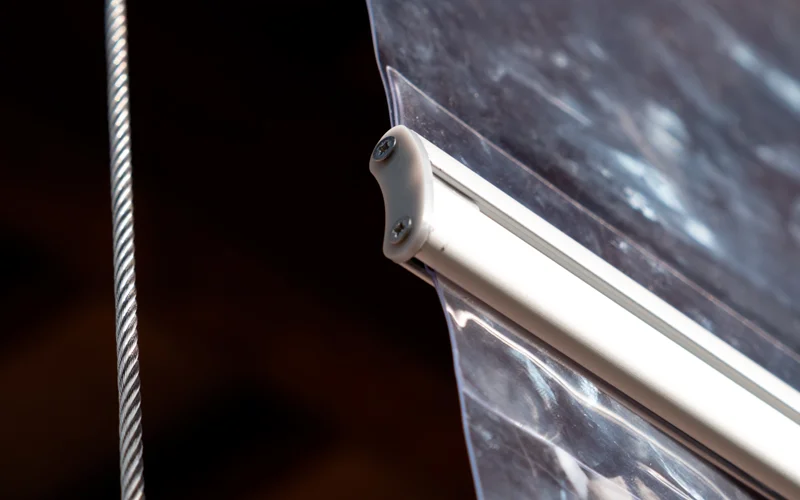 2 -
ASSEMBLY OF REINFORCEMENT PROFILES (BARS)
Assemble the stabilizing profiles using the appropriate kits. The stabilizing profiles are supplied only in case of fabric with a height greater than 110 cm.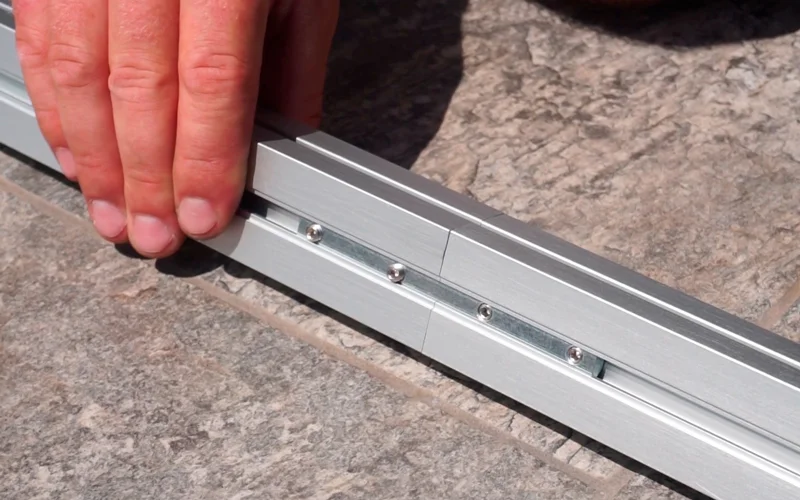 3 - ASSEMBLY OF THE END-PROFILE
As with the roller, the weight bar must also be assembled using the included T-nuts.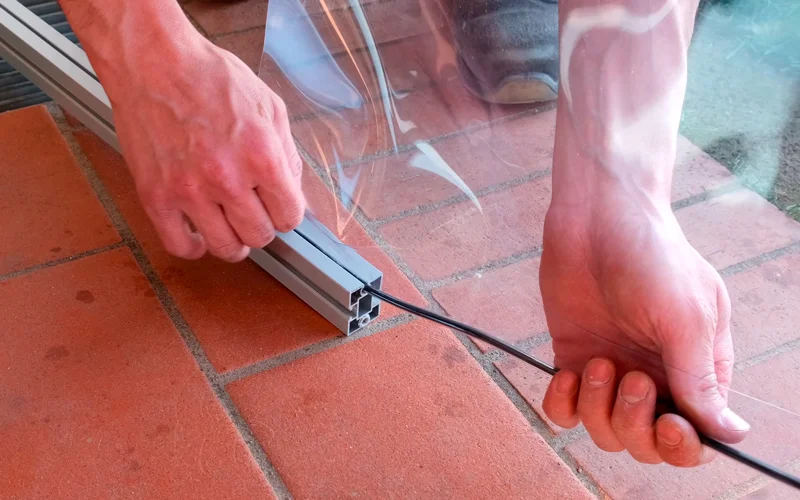 Insert the fabric in the groove and roll it up on the roller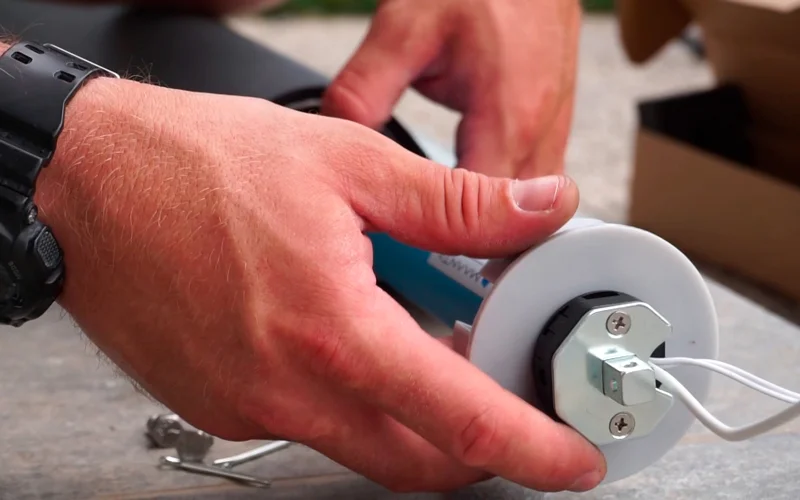 5 - INSERTING THE MOTOR (OPTIONAL)
Insert the motor (optional) into the winder roller, fix it using the supplied kit.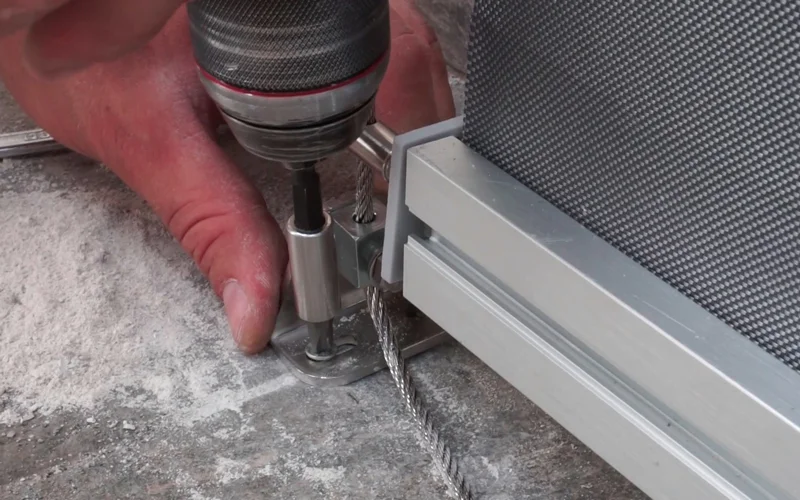 6 -
CEILING AND GROUND PLATE FIXING
Fix the roller to the ceiling or wall according to the type of installation, once the upper part is fixed, lower the fabric and bring it perpendicular to fix the plates to the ground.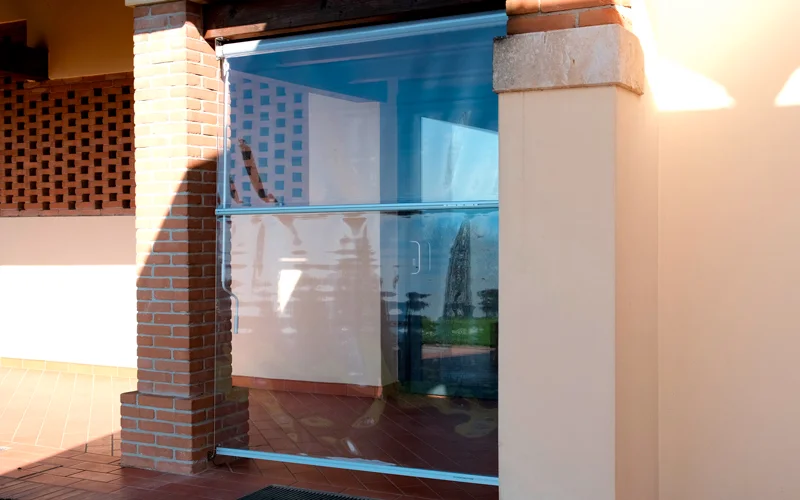 7 - TESTING AND INSPECTION
Test the sliding fluidity of the terminal in the lanyard, during the ascent and descent phases.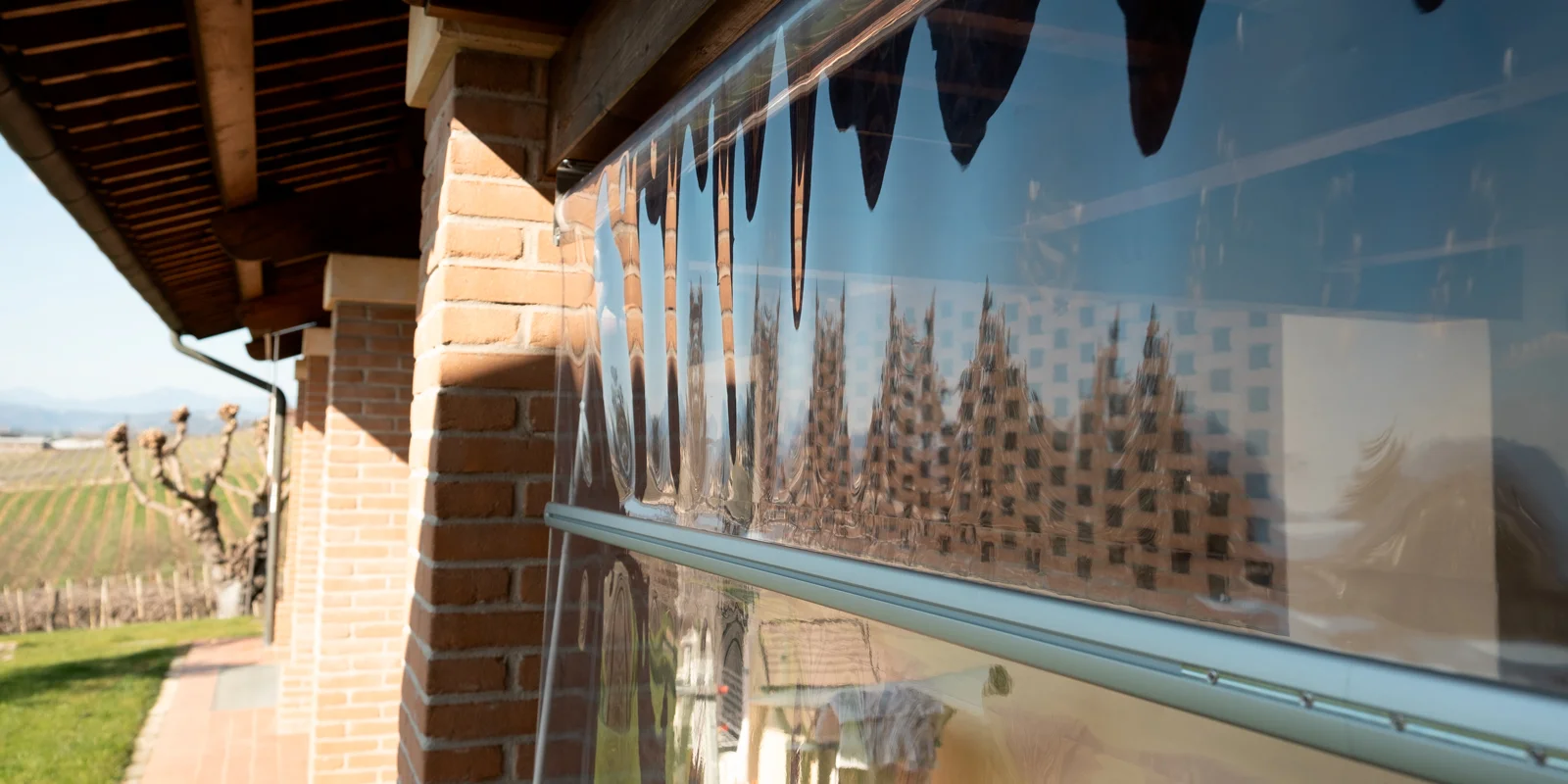 FAQ
How to measure vertical roller blinds?
All measurements refer to the complete awning with roller and fixing plates.

The fabric/PVC film is slightly narrower.

Here are the distances from the outside of the plate to the fabric for the various products (the distances are symmetrical on each side).

Easy Clear and Easy Roll without guide wires:
The fabric is overall 92mm (46+46mm) narrower than the complete structure.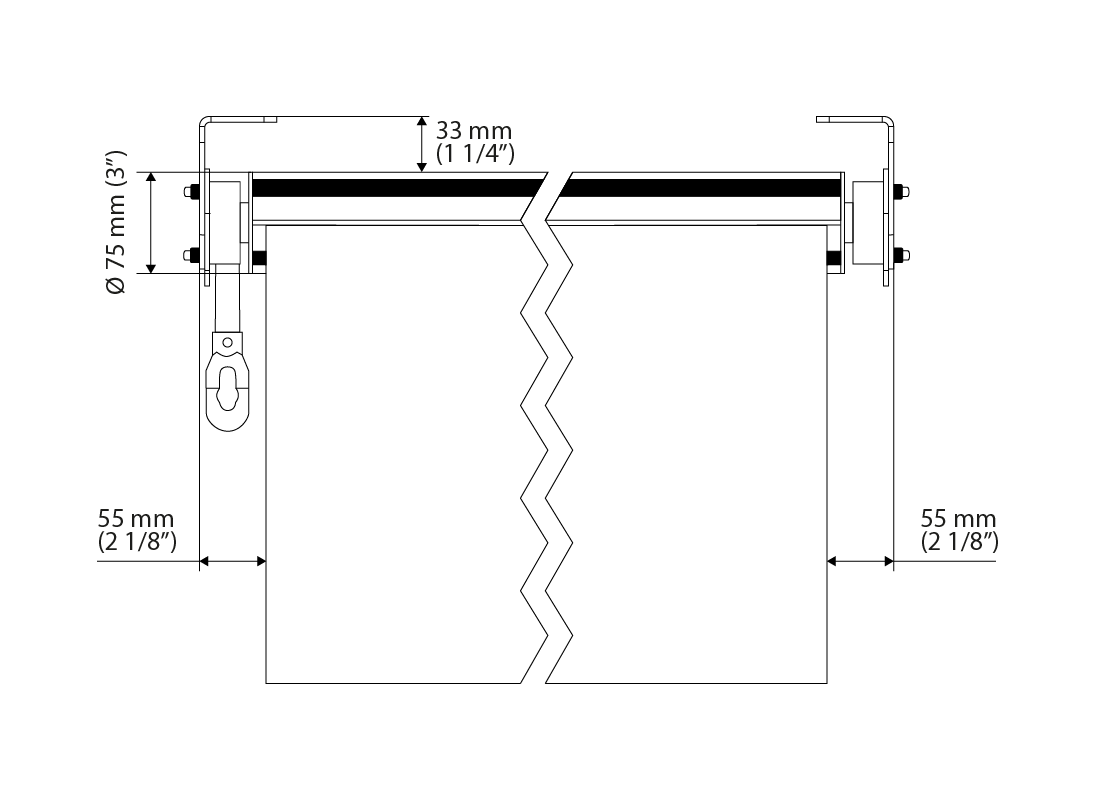 Reef Roll with guide wires:
The canvas is 98mm (49+49mm) narrower overall than the complete structure.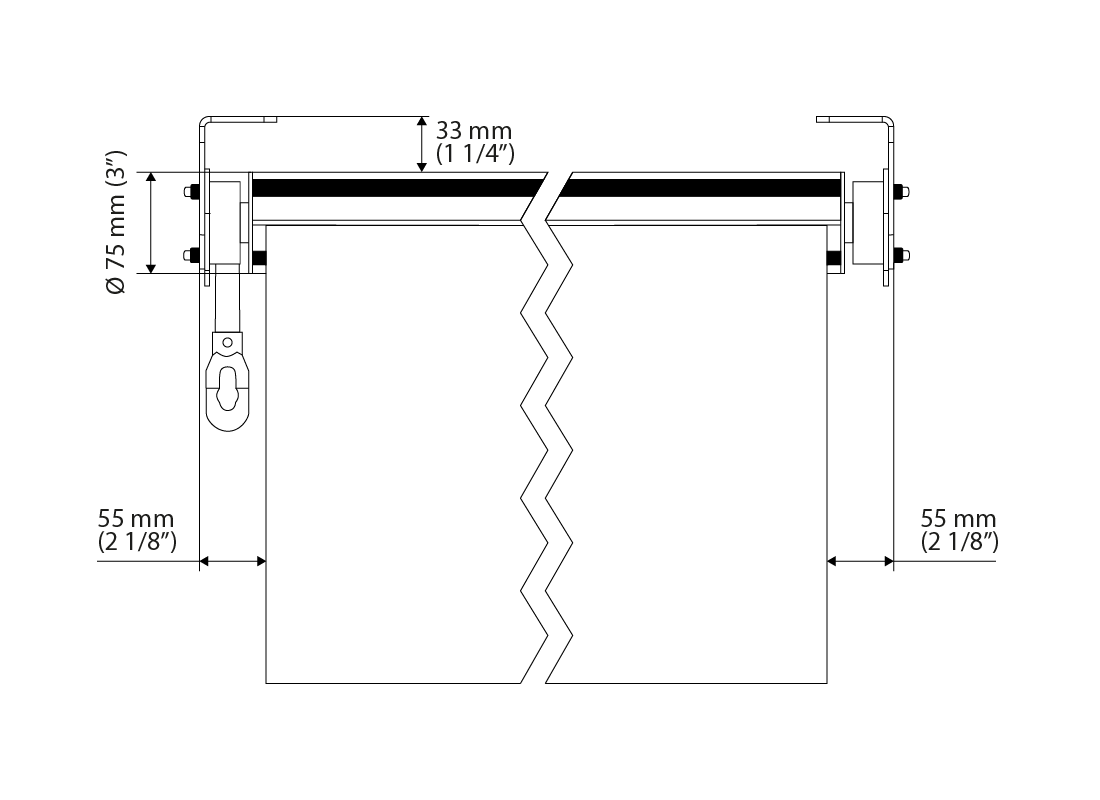 The dimensions of the fixing plates are identical for all Maanta vertical blind models.