Enter the world of Maanta shade sails!
Configure the exclusive Maanta Saill and Solaria sails from any device. The perfect match between Italian design, manufacturing and digital innovation!
Made from top quality technical fabrics, digitally cut, sealed seams, corners with multi-layer reinforcement, nautical quality stainless steel corner plates, practical adjustable perimeter straps, Saill and Solaria represent excellence in the world of shade sails.
Why choose a custom-made sail instead of a standard size?
Creating a bespoke sail is the best solution if you have a specific space to cover, or if you are looking to have total and precise coverage of the entire area!
Thanks to the online configurator you can design your dream sail in a few simple steps! By entering the actual measurements of each side of the sail or the measurements of the entire surface to be covered, the configurator will automatically calculate the measurements of your sail, giving you a free and immediate quote!
Choose from a variety of shapes, such as triangle, right-angled triangle, square, rectangle or trapezoid to get the sail that best suits your space and covers every inch of your outdoor area perfectly.
It is also possible to create more special shapes to suit every need, such as pentagonal or hexagonal sails, only on request.
Whether it's a garden, a terrace, a balcony, a restaurant or public outdoor space, you'll be able to create the perfect area of shade you need.
Buy online with all the assistance of our experts
Free design service
Are you setting up a new custom installation? Tell us your needs (size of the space to cover, possible anchor points, type of fabric).
We will send you a free quote/project!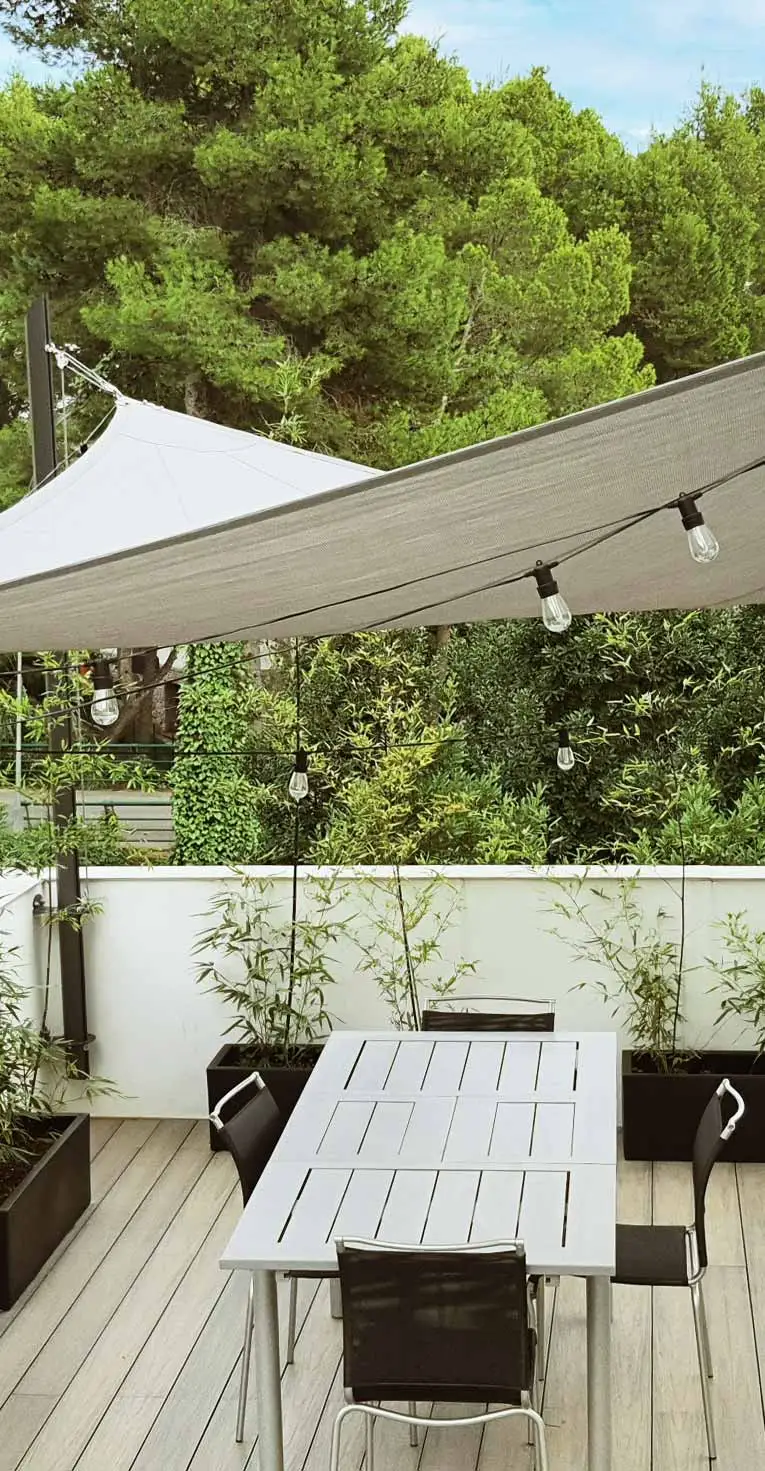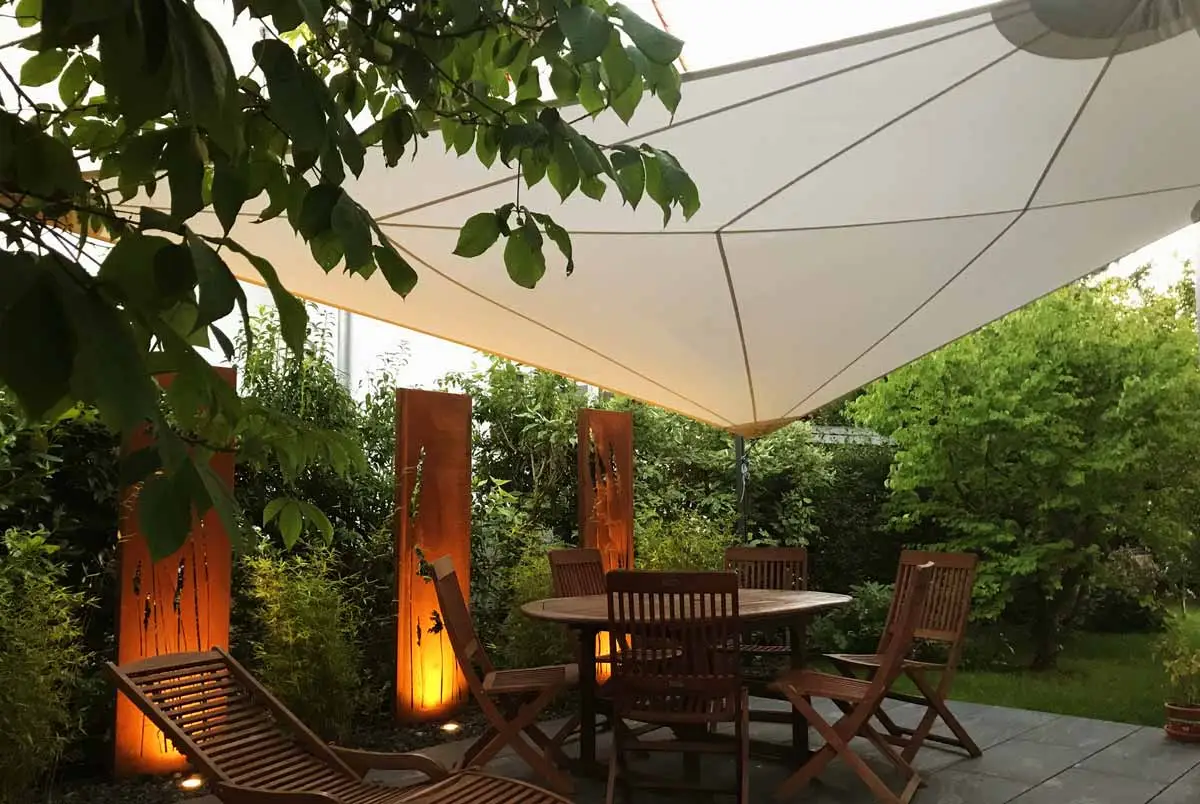 This type of construction is usually used on racing boats to obtain better performance. The many cuts and seams allow a better distribution of the force applied on the corners and will give us a better taut sail, which will fight more efficiently against the wind, drain the water better, last longer.
Made in Italy
radial cut which allows greater distribution of tension
structural stability
durability
better wind resistance
digital and automatic stitching
top quality components
multi-layer reinforcement
wind resistance up to 62km/h
up to 42 square metres
4-year warranty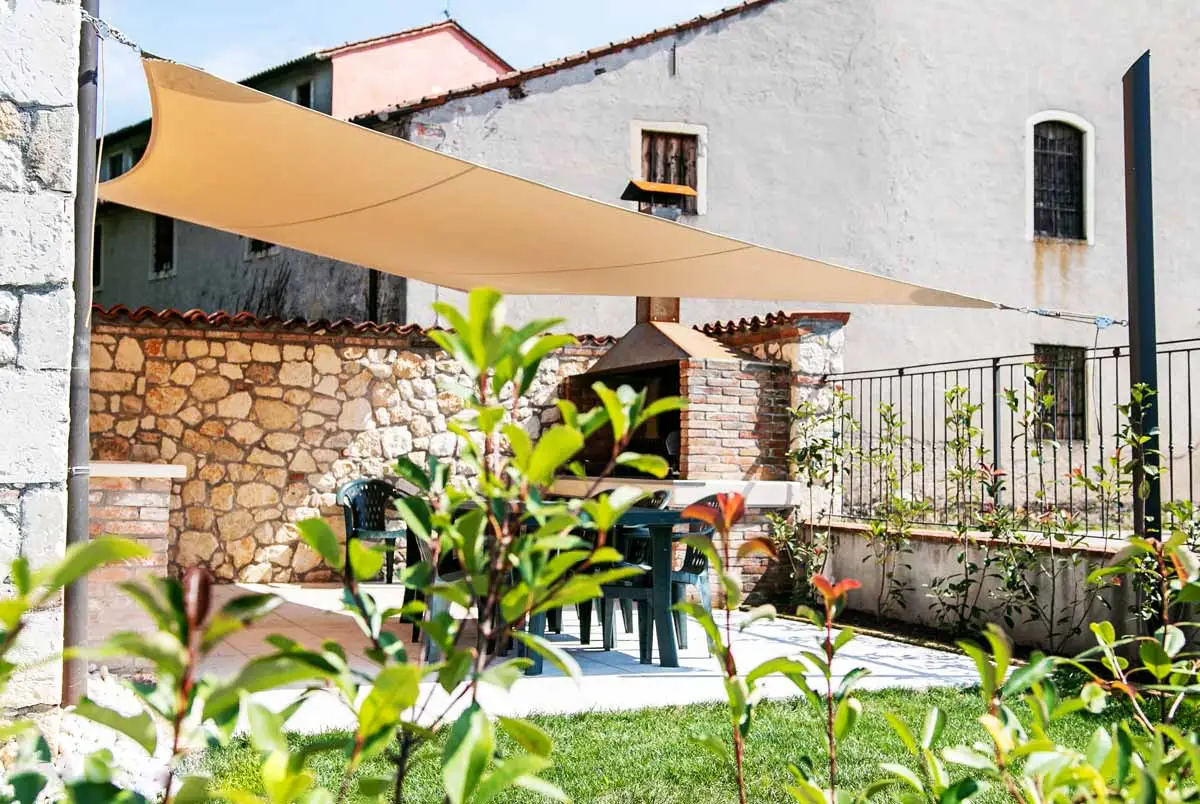 High quality Sail, premium quality fabrics. These sails are a perfect solution for heavy duty use!
Made in Italy,

cross-cut with bands

digital and automatic stitching

top quality components

multi-layer reinforcement

wind resistance up to 50km/h

up to 36 square metres

3-year warranty
What advantages do Maanta shade sails have over normal sails on the market?
Our sails, entirely Made in Italy, are equipped with practical adjustable straps that make the sail tension much easier, smoother and more uniform. In this way the sail will be perfectly tensioned in the perimeter, as well as in the center and no water accumulation will occur. Thanks to the 316 stainless steel angle plates in the corners it will be easier to install the sail and adjust the perimeter straps to obtain a uniform tensioning system.
In addition, our sails are equipped with multi-layer reinforcement. This ensures greater resistance to tearing and stress.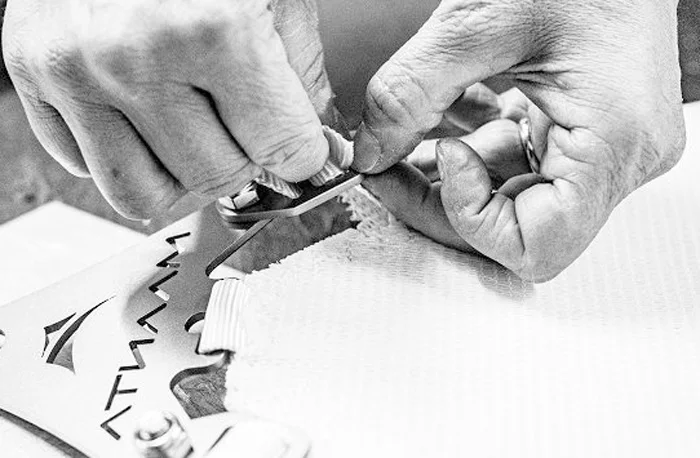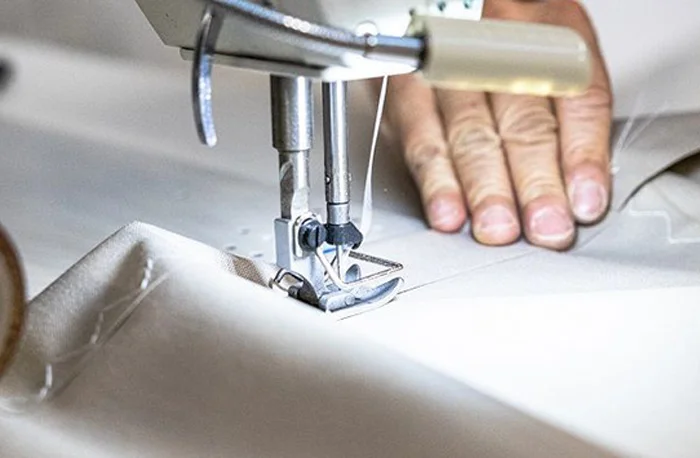 All processes are managed within our headquarters equipped with digital systems and qualified personnel.
Each product is handcrafted but with advanced technologies. Quality control is strict.
Multi-layer reinforcement
One of the most stressful points of sail awnings are certainly the corners: we reinforce them with different layers of fabric that reinforce and stiffen, helping a correct propagation of the force and embellishing the product.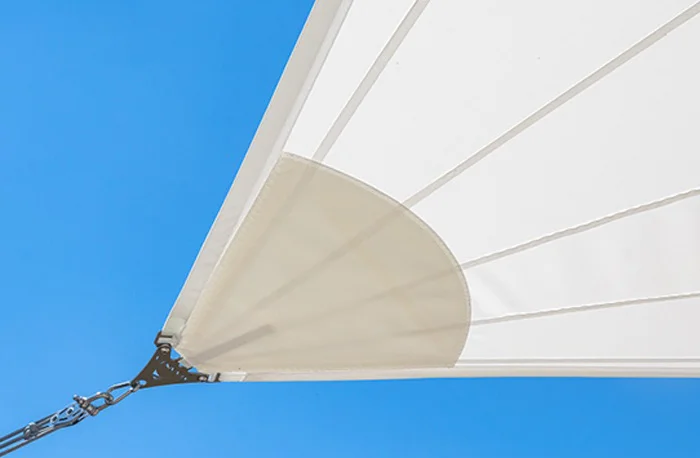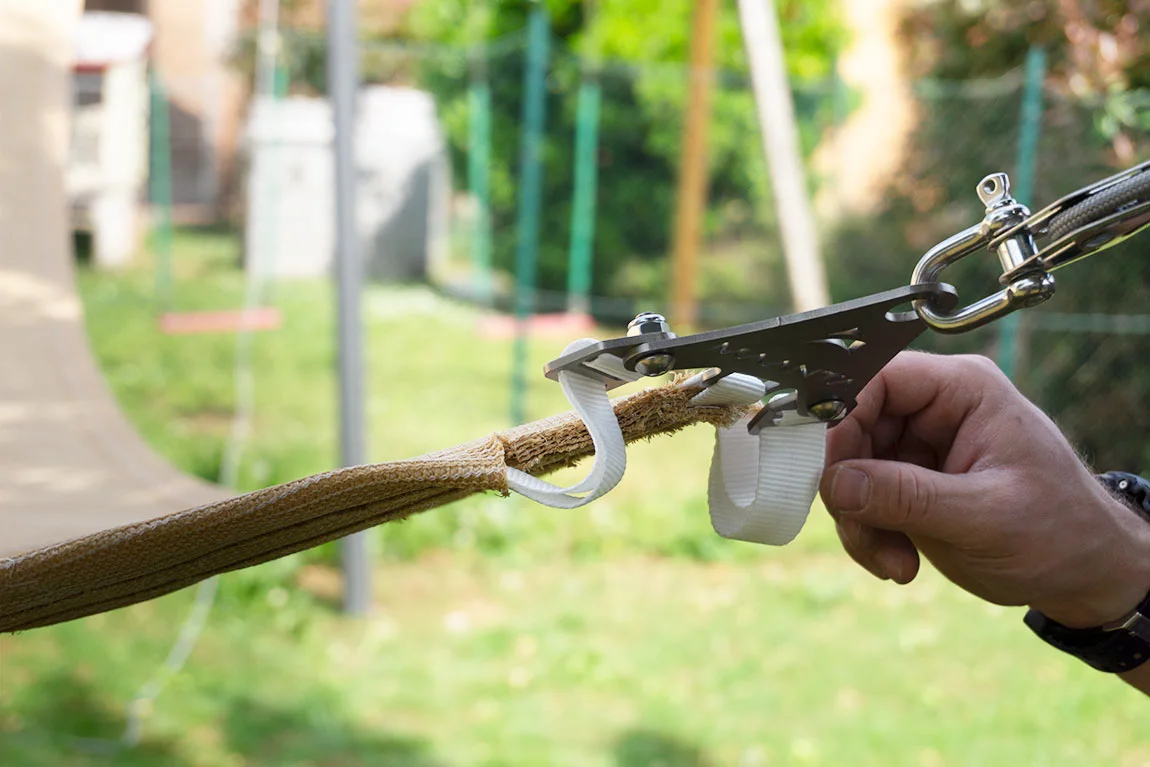 The innovative tensioning system with perimeter reinforcement straps, individually adjustable, allows a uniform distribution of tension over the entire surface of the sail.
Innovative technological fabrics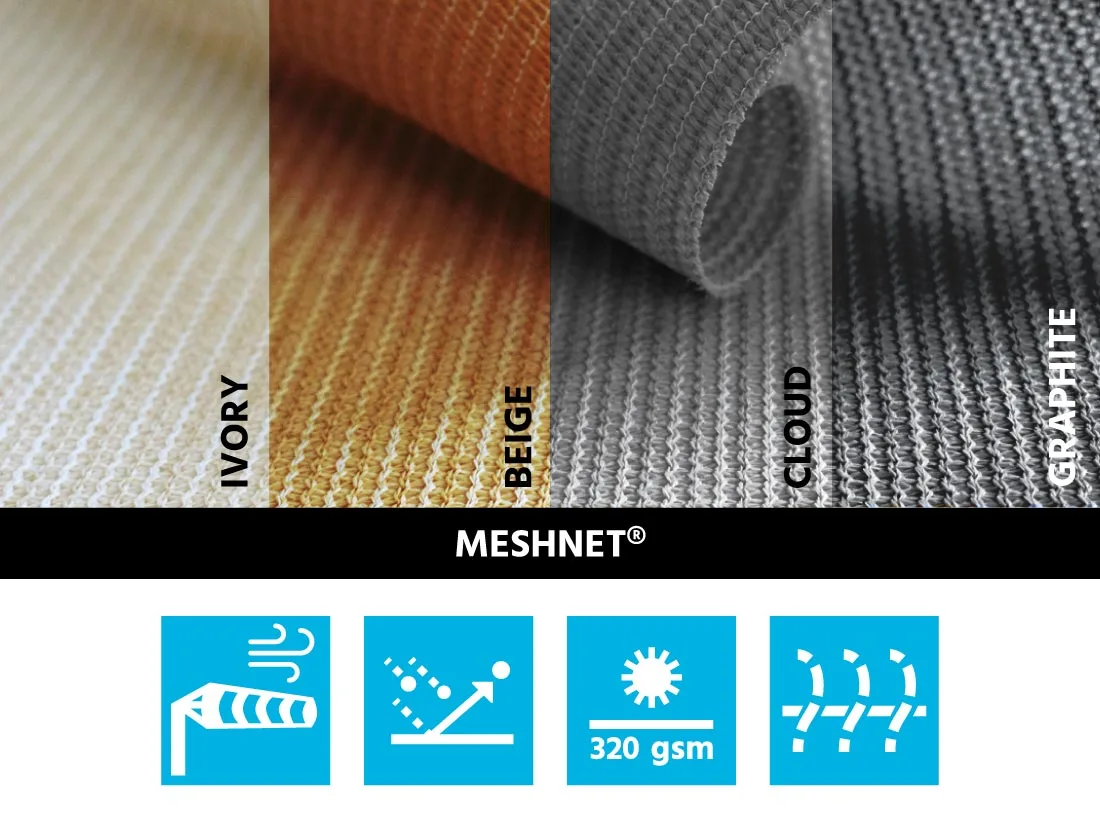 The extremely wind-resistant and cool Meshnet® 320g is used. The fabric used is a virgin woven and extremely strong polyethylene, which optimally absorbs wind and hail stresses.
In addition, it is able to form a heat shield so that cool shade is provided under the entire covered area, preventing a heat hood effect.
The dense 320g mesh also allows 40% of the water to drain away, with a 25% well-tensioned sail. It is an excellent tear-resistant, mildew-resistant fabric that is more durable over time and tensile strength. It does not accumulate any pockets, as can happen with waterproof fabrics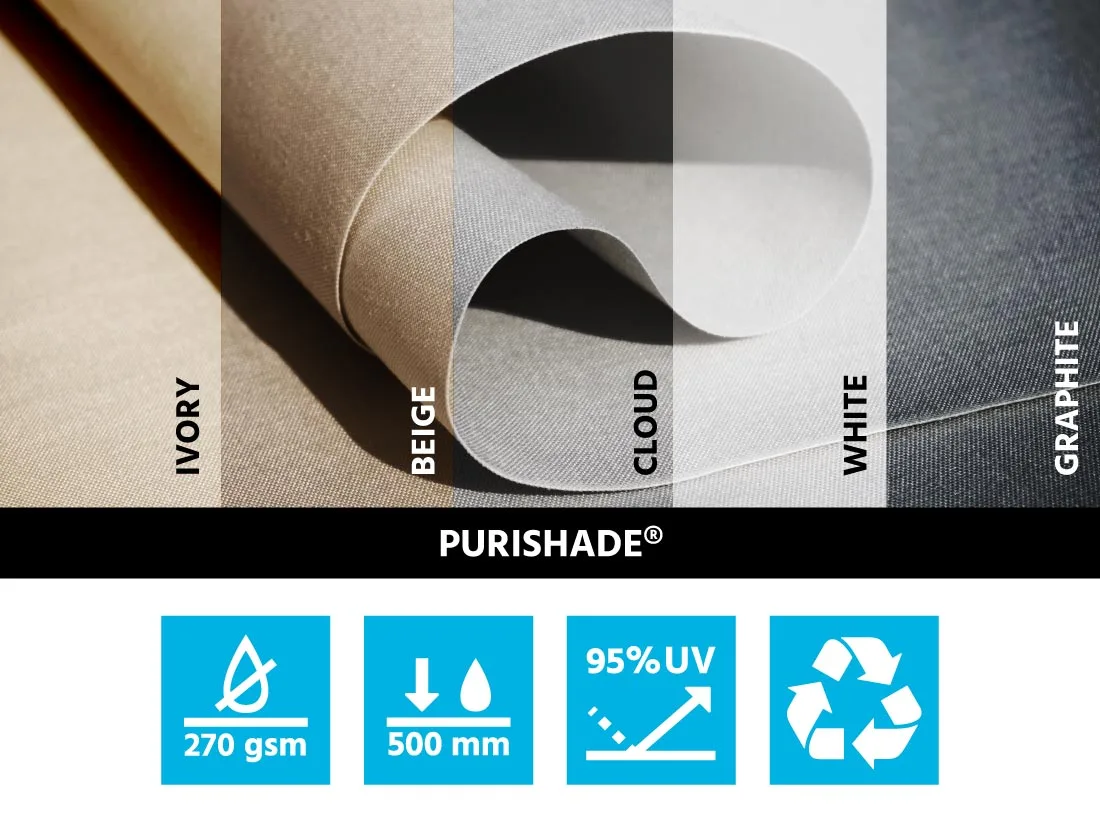 Purishade® 270g polypropylene, a cool, mildew-resistant fabric with the lowest environmental impact index (37) in the eco-friendly ranking compiled by the HIGG association, is used. Purishade® is the only fabric that is waterproof yet breathable!
It combines excellent mechanical properties of tensile strength with excellent breathability and waterproofness.
With Purishade® fabric we have resistance up to 500 ml water column, always ensuring freshness and breathability! This protects the shaded area from both rain, as well as leaves and dirt.
It also protects against UV rays with a value of UPF 50. To benefit the most from the qualities of Purishade® fabric, it is essential to tension the sail as best as possible and provide a slope for at least 25%. This provides greater strength and prevents the formation of annoying and dangerous central water pockets.
Maanta shade sails - Waterproof fabrics
Easy shade 2.0
Saill
Solaria
Type of fabric
Polyester
Purishade®
polypropylene (Olefin)
Purishade®
polypropylene (Olefin)
Eco-compatibility

3/5

5/5

5/5

Sealed seams
Yes
Yes
Yes
Wind resistance
30-39 km/h
40-50 km/h
51-62 km/h
Resistance
to tear / hail

3/5

4/5

4/5

Perceived freshness

2/5

4/5

4/5

Resistance to mold

3/5

5/5

5/5

Abrasion resistance

3/5

5/5

5/5

Resistance to tension

3/5

4/5

5/5

Fabric cut
In bands
In bands
Radial
Years warranty ***
2
3
4
 
Discover EasyShade
Discover Saill
Discover Solaria
* with correct application of tension 45kg for each corner
** with a minimum inclination of 1m
*** the warranty is recognized for products installed as per our guides and only on manufacturing defects
Maanta shade sails - Breathable fabrics
Easy shade
Saill
Solaria
Type of fabric
Virgin HDPE polyethylene
Meshnet®
Meshnet®
Eco-compatibility

5/5

3/5

3/5

Wind resistance*
40-50 km/h
51-62 km/h
55-65 km/h
Resistance
to tear / hail

4/5

5/5

5/5

Perceived freshness

4/5

5/5

5/5

Resistance to mold

5/5

5/5

5/5

Abrasion resistance

4/5

5/5

5/5

Resistance to tension

4/5

5/5

5/5

Fabric cut
In bands
In bands
Radial cut
Years warranty ***
2
3
4
 
Discover EasyShade
Discover Saill
Discover Solaria
* with correct application of tension: 45kg for each corner
** with a minimum inclination of 1m
*** the guarantee is recognized for products installed as per our guides and only on manufacturing defects
FAQ
Thanks to our convenient online configurator you can create and order your tailor-made shade sail in a few simple steps. All you have to do is take the measurements of the area to be covered, enter them in the configurator and choose the fabric and type of stitching. In a few seconds, the system provides you with an accurate quote.
Go to configurator
Of course! You can order samples of our exclusive fabrics directly from the website www.maanta.it. By ordering the samples you will receive : 4 different colors of Purishade® fabric (for waterproof sails available in White, Ivory, Cloud, Beige) and 4 different colors of Meshnet 320 fabric (for breathable sails available in Ivory, Beige, Cloud, Graphite colors).You will also receive a € 10 discount coupon for your next purchase of a Solaria or Saill sail.
After receiving the order, our technical team designs the sail with digital programs. The technical drawing linked to the order is then inserted into the production plan (digital cutting, semi-automatic sewing, final quality control). Thanks to our experience we have greatly optimized production times and are able to deliver the customized shade sail in approx. 14-28 working days. However, times depend on seasonality and the quantity of orders being processed. For this reason we always indicate the expected delivery date earlier during the acceptance of the order.
Tailoring sails involves many steps which take approx. 10 working days. To avoid longer waits we recommend, if possible, to design and order your glider in the low season (September to March). Very often the price is even more advantageous out of season and you can take advantage of any discounts and offers
We recommend designing the anchoring system first. Place or design the position of the wall plates or support poles. This way you can easily take measurements between one anchor point and another. Our configurator will show you the measurements you need to design the sail (lengths of the sides and / or diagonals). It is essential to provide the necessary space for the anchoring tools. Always provide at least 35cm between each corner of the sail and its anchoring point. If you are unsure, choose the 'I will provide the distances between the fixing points' option. The sail will be calculated automatically in our configurator. The system will automatically choose the correct size for your wing.
Each Maanta sail is equipped with eyelets at each corner to be able to optimally attach it to the anchoring system. To take advantage of the "X-tension" technology we do not add eyelets along the perimeter . Thanks to this technology, it is possible to minimize the creation of annoying water pockets in the center of the sail.

The sail must be installed with the seams facing upwards, therefore the Maanta lettering on the corner plates must be legible from under the sail. The choice to direct the seams upwards is not only aesthetic: the thread we use, widely used in the nautical world, can be safely exposed to atmospheric phenomena.
The runoff point is the angle to choose in any tailor-made sail to allow perfect drainage of rainwater, as well as in the event of condensation that can form on the underside during periods of high humidity. In this way the flow of water towards a certain corner of the sail is always respected, thanks to the "tile principle" and liquids will always be able to slip away.
If you see a water pocket, or "belly", form, the sail may not be installed correctly. Our sails are equipped with adjustable perimeter straps, similar to those of a common backpack, sometimes too tight . Here the diagonals inside the sail are not receiving enough tension.

To correct this error, just follow these simple steps:
In each corner, loosen the two perimeter straps which are adjustable on the sides
Stretch the sail as much as possible towards each corner so that the diagonals are well pulled.
This should produce more tension in the sail center, thus eliminating the vacuum that was created.
Yes. Snow, due to its weight, can cause tears or breaks in the fabric. Another risk is the formation of ice in the knit of the fabric, which would make it extremely fragile.
Therefore, in case of snow we do not recommend keeping the glider installed. Instead, we suggest removing the glider, first loosening the anchor, releasing the corresponding carabiner and then removing all the other carabiners. The removed sail must then be dried, folded and placed in a dry place.

The shading sails can be cleaned with neutral detergents , left to act for a few minutes, and thoroughly rinsed.
To remove stains or halos we recommend first of all to remove it, first loosening the anchor , releasing the corresponding carabiner and subsequently removing all the other carabiners.
With the sail removed, you can proceed with soft brushes to remove the most persistent stains with the help of water and possibly neutral detergents.
Pursuant to art. 49, letter m of the Consumer Code, there is no right of withdrawal for customized products. Custom sails are specially created with dimensions suitable for individual customers. In any case, we recommend that you check very carefully before ordering that the measurements indicated are correct. In case of doubt, our team is at your complete disposal to provide you with all the necessary advice and information.