The Higg index, strongly advocated by the Sustainable Apparel Coalition, provides a tool for the apparel and footwear industry to assess sustainability throughout a product's life cycle, from raw material to end-of-life. Polypropylene is listed as the most environmentally friendly fabric, with far less impact than polyester and acrylic, commonly used in shade sails.
Neither solvents nor acids are used, as is the case for viscose,  triacetate, nylon and polyester. It does not need washing unlike the wool production cycle (so no ashing wastewater is produced) or bleaching procedures (unlike the cotton production cycle where wastewater containing chemical bleaching agents is produced).
Without the need for chemical additives, Purishade®'s polypropylene fibre has hypoallergenic and anti-odor properties and is food compatible. Due to its chemical nature, fabrics made from it don't cause allergic reactions on the skin and mucous membranes, even in the case of particularly sensitive individuals or those with irritation or allergies.With its excellent resistance to acids a nd alkaline sweat, polypropylene provides a high level of comfort, convenience and hygienic safety even for contact with the skin of an infant under 6 months.
It is therefore classified as Oeko-Tex Class 1.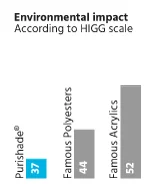 Due to its physical and chemical characteristics, its production requires lower temperatures than other synthetic polymers and therefore has a lower impact in terms of energy consumption and CO2 emissions. It can also be easily shredded, made into granules and reused up to 10 times!
This feature enables the recycling of waste into printable and reusable material.
A quick example:
To produce a polypropylene T-shirt, 0.6 litres of water are used.
2700 litres are needed for the same cotton T-shirt!