EasyShade 2.0 Waterproof
Best value for money
This waterproof shade sail is entry level and offers the best value for money. Very easy to assemble, its main features are - Cross-cut (bands) - Polyester 160 gr / m2 - Drip-proof seams - 316 stainless steel rings.

It provides optimal protection from sun, rain and wind. Thanks to the X-tension technology we are able to reach an optimal tension that avoids 73% of water pockets compared to competitors and the previous version.

Ensures protection from UV rays, complete waterproofing thanks to the drip-proof sealed seams.
Equipped with stainless steel rings at each corner and available in over 20 sizes and 6 colors!
    160 g/m² polyester cover fabric with double PU coverage, UV 30+, 88% -95% UV protection
    Drip-proof sealed seams for perfect waterproofing
    Exclusive X-Tension technology to give uniformity of tension and avoid central water pockets
    Nautical quality 316 stainless steel rings
    Over 20 different sizes, machine washable up to 40 °

If you can't find the size or color, Saill and Solaria are always available.
If you want a custom size sail, design it with the online configurator!
Description
The experience gained in shade sails has made us rethink entirely around our entry level product.
We have come to develop Easy Shade 2.0 through substantial improvements over the first version, which it was already better in itself than competing products.
First of all we have kept a workhorse, that is the double covering of polyurethane in the fabric.
This double layer allows a better waterproofness over time .
We have also decided to keep the marine quality 316 stainless steel rings , which are proving their worth over time.
The X-tension technology derives from many constructive devices that work in synergy with each other, giving back a more performing shade sail.
We have reduced the formation of water accumulations in the center of the sail by 73%.*
The fabric is stretched evenly, and the force also reaches the center , the true Achilles heel in these first-tier sails. All this has been made possible thanks to the application of construction technologies that we usually use in our furling sails , ie the most exclusive products on the market.
Finally we decided to expand the range of sizes , to be able to meet every need and ensure a cover that can adapt to any outdoor space.
Sealed Seams
We have equipped ourselves with a machine capable of applying a protective film on the seams and this allows us to avoid the infiltration of annoying drops of water, making the seams sealed .
None of the competing sails can provide even tension and water protection like Easy Shade 2.0!
Easy Shade: a unique waterproof sail, in its simplicity.
* tests carried out on medium-sized models around 15-25 m², with correct inclination and applied force, average performance compared to our previous sails as well as on competing products with the same length / price.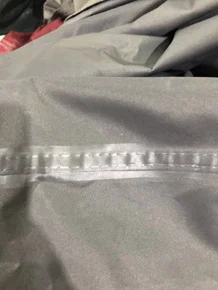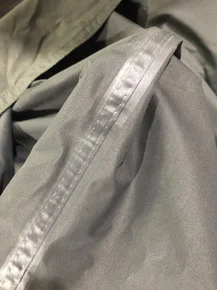 Guides & Info

GUIDES & INFO

TENSIONED SAILS
Correct tensioning is one of the most important factors during assembly
The advantages of a well-taut sail are:
better wind resistance (does not tear and does not wear fixings)
no pockets of water are created (waterproof sails)
greater longevity of the sail and fixings
Advantages

Waterproof
Double PU cover, sealed seams, X-Tension technology for perfect rainwater drainage.

---

UV protection
The fabric is UV 30+ certified and provides 90% to 95% protection against harmful ultraviolet rays.

---

Tension
Thanks to the X-Tension technology this sail will remain tighter than the competitors and the previous version. It will fight the wind better and make the water drain more easily!

---

Easy installation
Easily installed and removed thanks to the practical nautical stainless steel rings placed on each corner. Our assembly instructions will clear up any doubts!

Features
Features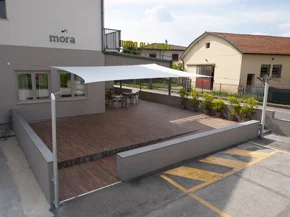 The X-Tension technology allows the sail to stay tighter: this means greater wind resistance and drastic reduction of water accumulation (bellies). Several tests have shown a 73% reduction compared to competing / previous models. Easy Shade 2.0 is a safer, performing sail that resists better against wind and water.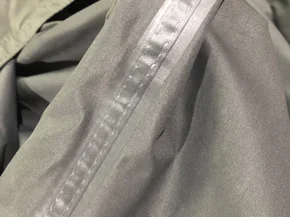 The sealed seams allow to avoid annoying infiltrations due to the seams of the fabric. The adhesive film we apply on each seam eliminates the possibility of water dripping.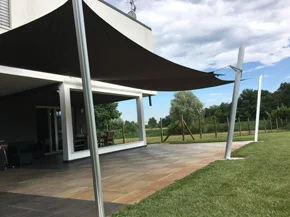 The sails are easily installed, removable and protect outdoor spaces with a very clean and minimal aesthetic impact. They integrate well in modern homes as well as in classic environments. To extend the lifespan of the shade sail, we recommend drying it, folding it and storing it dry during the winter.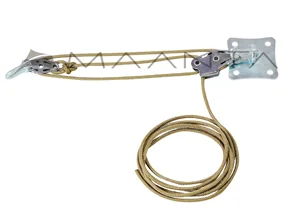 Tension can be ensured above all thanks to special anchors, such as bending resistant poles or wall anchors able to multiply the force through the pulleys. Our shade sail poles, our muscle x3 kits and our Vortis furling kit have these features.
Strengths Easy Shade 2.0 Waterproof
DOUBLE PU COVER
The double PU cover of EasyShade Waterproof and the weight of the polyester of 160 grams per square meter (above average) give a very high degree of waterproofness, strength and stability to the sail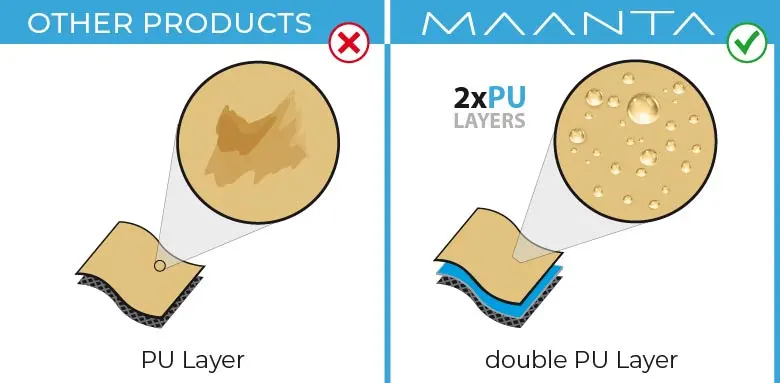 SEALED SEAMS
One of the weaknesses of top-tier sunsails is definitely not having the seams sealed. Easy Shade 2.0 solves this problem.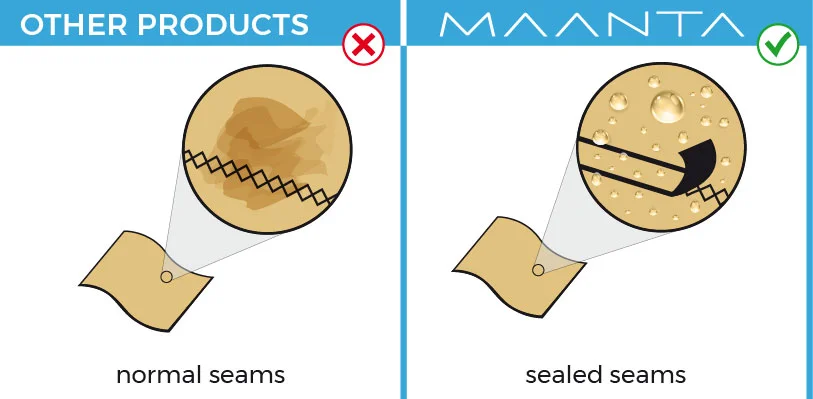 X-TENSION TECHNOLOGY
Thanks to a series of tricks and production technologies, our correctly tensioned Easy Shade 2.0 sails reduce water pockets by 73% compared to competing sails.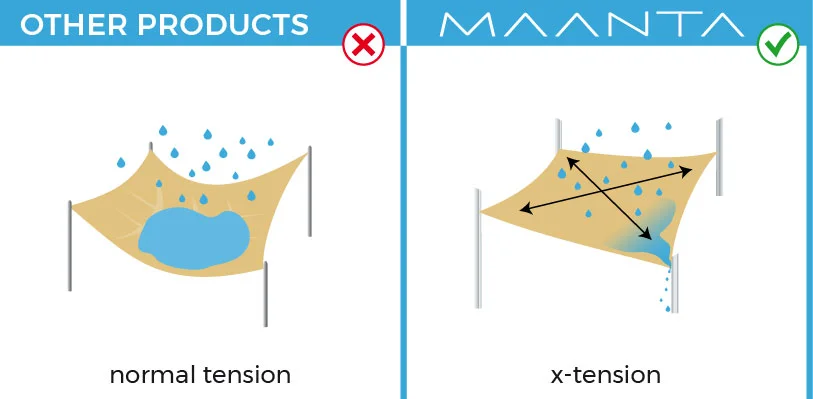 PERIMETER REINFORCEMENT
The sturdy seams and the entirely perimeter tape (unlike the competition) allow the fabric to be optimally tensioned.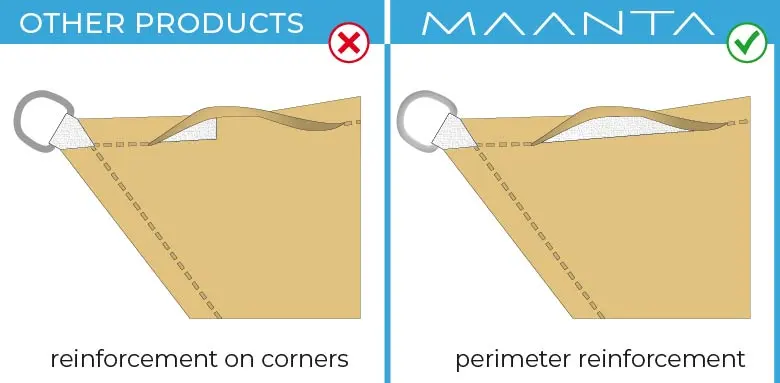 STAINLESS STEEL RINGS
The nautical stainless steel rings give the sail reliability and durability.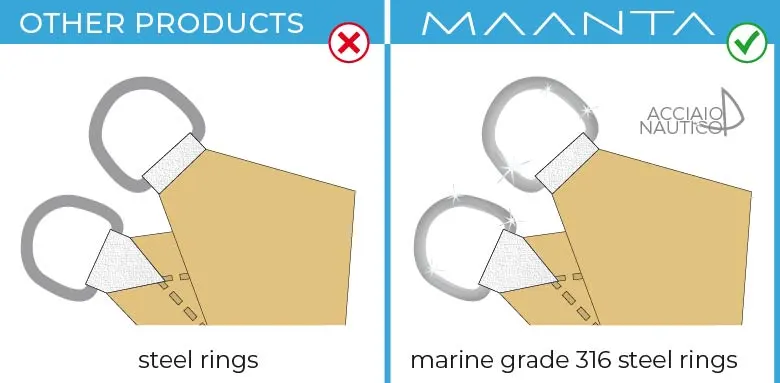 EASYSHADE 2.0 WATERPROOF COLOR RANGE
Easy Shade 2.0 waterproof sails are available in the colors: white, ivory, beige, taupe, graphite and cloud.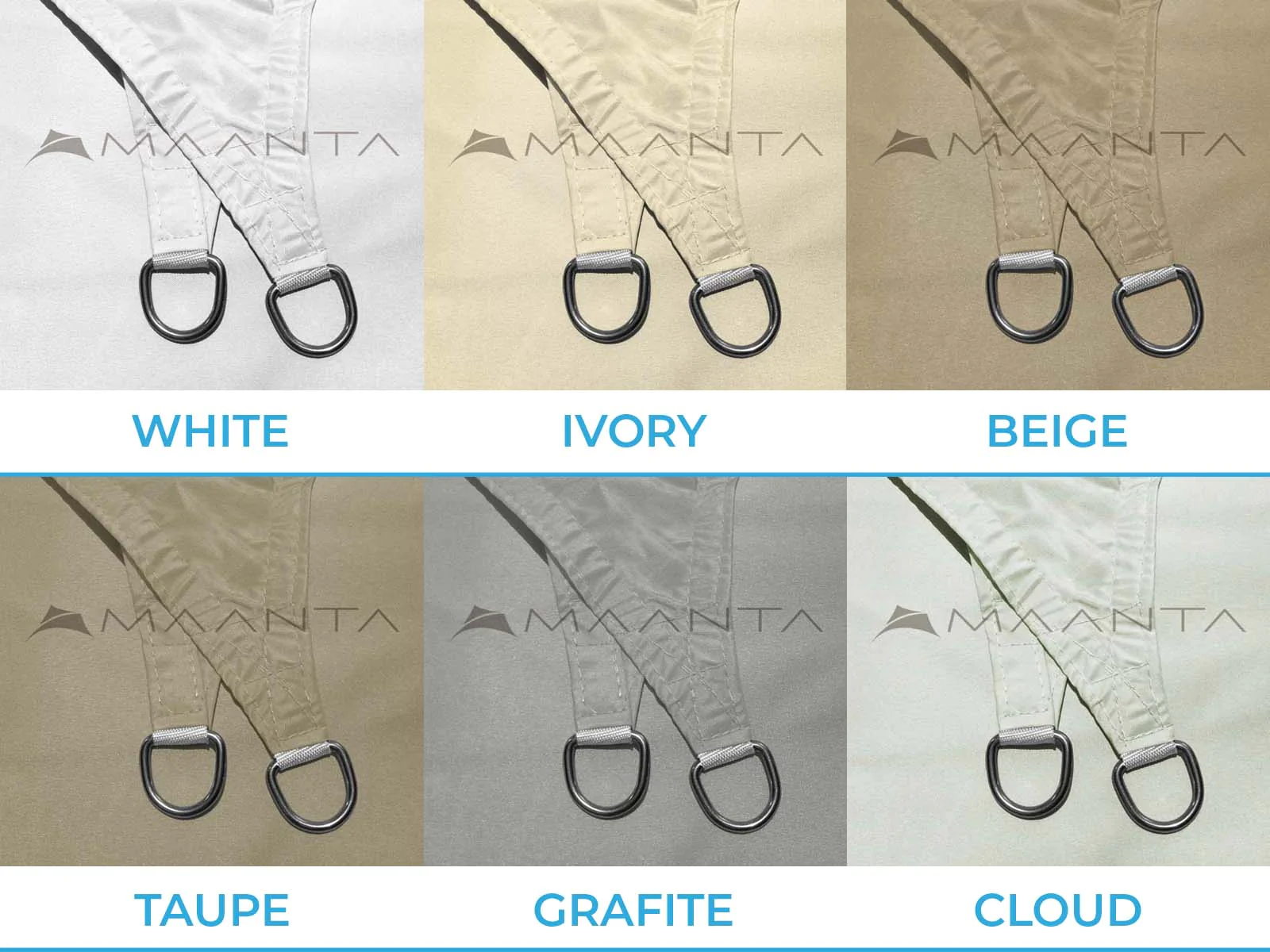 EASYSHADE 2.0 WATERPROOF COLOR RANGE
We remind you that the colors displayed may vary slightly on different screens (pc or mobile devices).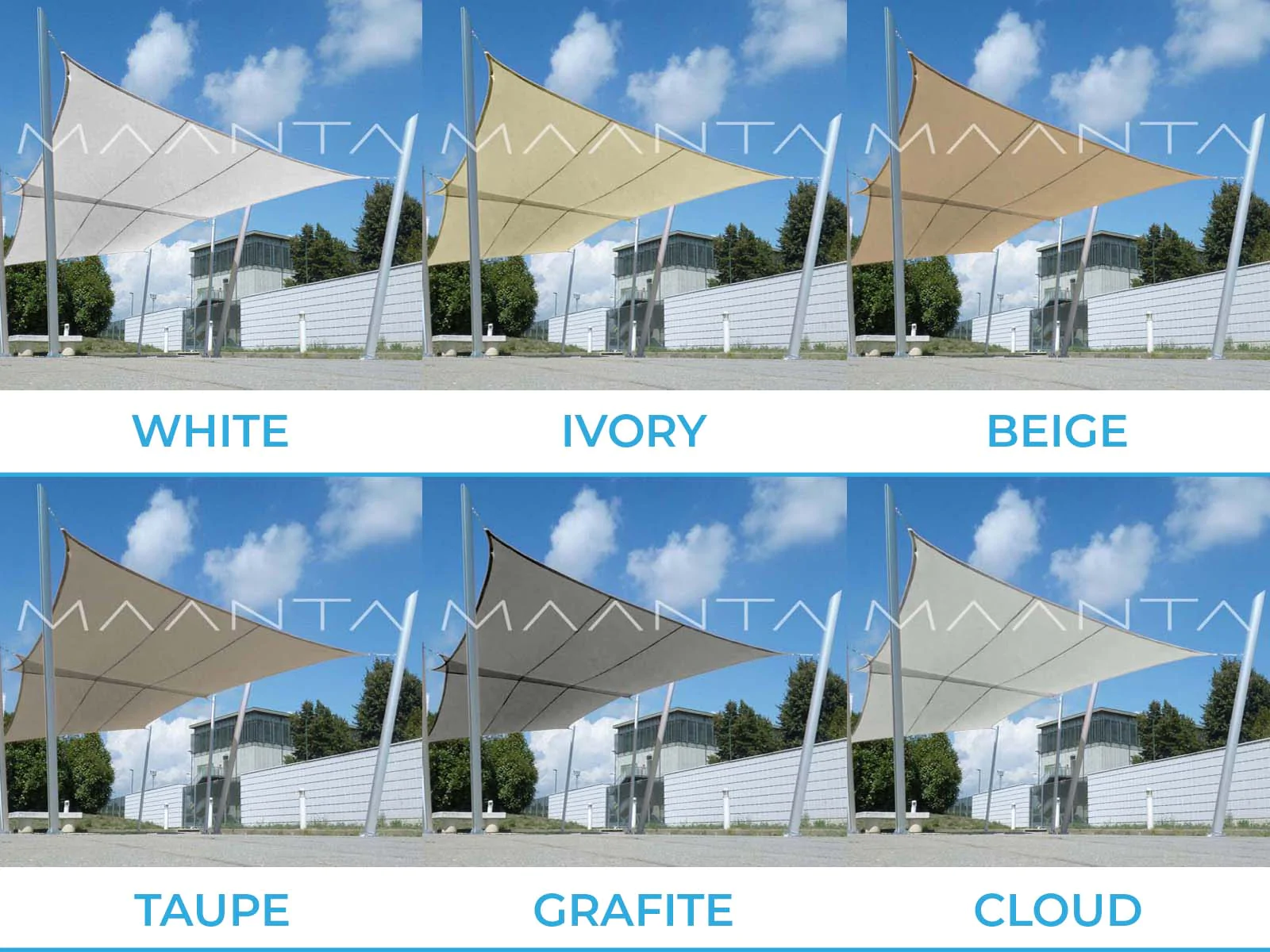 Available sizes
Available sizes

3,0 x 3,0 (m)
4,0 x 4,0 (m)
5,0 x 5,0 (m)
5,5 x 5,5 (m)

3,6 x 3,6 x 3,6 (m)
4,0 x 4,0 x 4,0 (m)
5,0 x 5,0 x 5,0 (m)
6,0 x 6,0 x 6,0 (m)

3,0 x 2,0 (m)
3,0 x 4,0 (m)
3,0 x 5,0 (m)
3,0 x 6,0 (m)
3,5 x 4,5 (m)
3,5 x 5,5 (m)
4,0 x 5,0 (m)
4,0 x 6,0 (m)
4,5 x 5,5 (m)
4,5 x 6,5 (m)
5 x 6 (m)

4 x 4 x 5,66 (m)
5 x 5 x 7,07 (m)
Sails catalogue
Maanta shade sails - Waterproof fabrics
Easy shade 2.0
Saill
Solaria
Type of fabric
Polyester
Purishade®
polypropylene (Olefin)
Purishade®
polypropylene (Olefin)
Fabric weight
160 gsm
270 gsm
270 gsm
Eco-compatibility

3/5

5/5

5/5

Sealed seams
Yes
Yes
Yes
Max area
30 m²
36 m²
42 m²
Persistence of color

3/5

5/5

5/5

Wind resistance
30-39 km/h
40-50 km/h
51-62 km/h
Resistance
to tear / hail

3/5

4/5

4/5

Waterproof

5/5

5/5

5/5

Water runoff
90%
100%
100%
Condensation risk

3/5

-
-
Water column
50 mm
500 mm
500 mm
Perceived freshness

2/5

4/5

4/5

Resistance to mold

3/5

5/5

5/5

Abrasion resistance

3/5

5/5

5/5

Resistance to tension

3/5

4/5

5/5

Uniformity tension

2/5

4/5

5/5

Fabric cut
In bands
In bands
Radial
Years warranty ***
2
3
4
Cost per sqm
ca 4€ / m²
ca 29€ / m²
ca 39€ / m²
Custom sizes
No
Yes (+8€/mq)
Yes (+8€/mq)
 
Discover!
Discover!
Discover!
* with correct application of tension 45 kg for each corner
** with a minimum inclination of 1m
*** the warranty is recognized for products installed as per our guides and only on manufacturing defects
Reviews
Reviews of customers who bought EasyShade 2.0 Waterproof