EasyShade Breathable
Shadow for the best prices
This shade sail is entry level and offers the best value for money. Very easy to assemble, its main features are - Cross-cut cut (bands) - Fabric 180 gr / sqm - Stainless steel rings ..

EasyShade Breathable is an anti-wind and anti-hail shade sail thanks to the woven fabric, incredible tear resistance, resistance against mold and stains.

Available in over 20 sizes and 4 colors.
Virgin polyethylene cover fabric (better protection than recycled) 180 g/m², UV protection
Anti-mold, anti-stain, anti-tear
Internal reinforcement tape entirely perimeter, D-rings Nautical stainless steel
Maximum air circulation and perceived freshness. Best wind resistance.
Over 20 variations of size

If you can't find the size or color, Saill and Solaria are always available.
If you want a tailor-made sail, design it with the online configurator!
Description
Easy Shade HDPE is a triangular, square or rectangular shade sail that ensures maximum freshness during the summer season.
The woven fabric of which it is composed will in fact let the air circulate in an optimal way: during the summer the heat will naturally rise upwards, without encountering any barrier.
This air circulation also helps to fight the wind, as this will pass through the fabric and this will have no risk of forming accumulation bellies.
If the sail with its 4 corners is taut (about 60kg per corner) and tilted correctly, it will also be able to drain 20% of the rainwater that will come down.
We have chosen to produce this square sail with virgin HDPE shade fabric as it is much more resistant to tension than recycled.
Furthermore this fabric is completely anti-mold and anti-tear and ensures a great UV protection.
Assembly will be quick and easy thanks to the 4 rings placed at each corner.
The over 20 sizes in which it is produced will help to find the perfect size for any outdoor space!
View our channel
YouTube!
You'll find installation guides and much more: click here!
Advantages

Freshness - Wind resistance
Thanks to the woven virgin HDPE fabric, the perceived freshness and wind resistance will be optimal to protect from the summer weather.

---

Tension
Thanks to the incredible resistance of the fabric it will be possible to create an optimal tension in the shade sail to make it even more resistant to the wind and to drain up to 20% of rainwater.

---

Easy installation
Easily installed and removed thanks to the practical nautical stainless steel rings placed on each corner. Our assembly instructions will clear up any doubts!

Features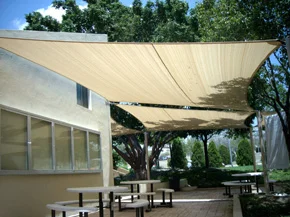 The high quality virgin polyethylene fabric is able to withstand an incredible amount of tension.
This helps the shade sail to cut through the wind more and drain away some of the water.
Other excellent features are that it is completely mould and stain resistant and tear resistant!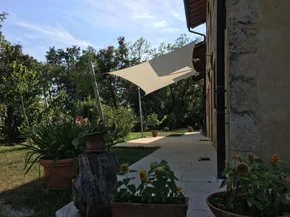 During the summer season we often seek shelter from the sun.
Shading areas close to the house such as terraces or pergolas means creating more freshness in the house too!
This fabric is particularly suitable for creating shady and cool areas.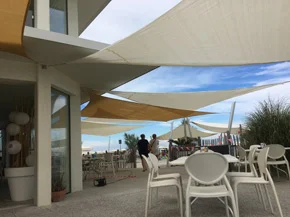 The sails are easy to install, removable and protect outdoor spaces with a very clean and minimalist aesthetic impact.
They integrate well into both modern and classic homes.
To extend the life of the sail awning, we recommend drying, folding and storing it dry during the winter.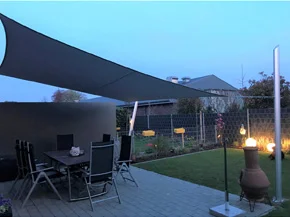 Tension can be secured mainly by means of special anchors, such as bending-resistant poles or wall anchors that can multiply the force through pulleys.
Our shade sail poles and muscle x3 kits are equipped with such measures.
Strengths
PURE POLYETHYLENE
Originally polyethylene is much more durable and stress resistant than recycled polyethylene. Maanta uses only the highest quality materials.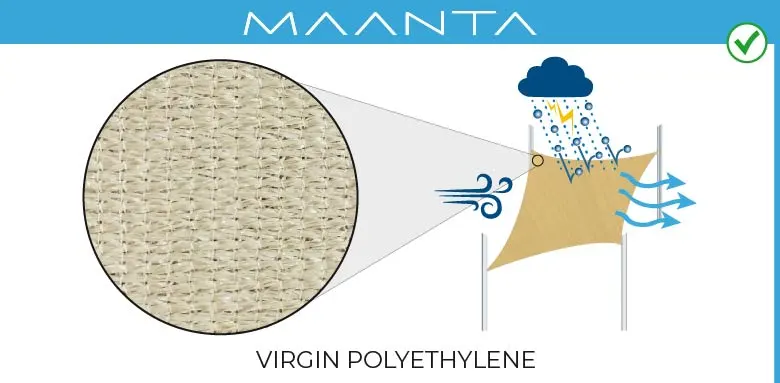 21 VARIANT - adapts to all spaces
With 21 tarp options, you can dress up any outdoor space and combine tarps of different sizes to cover large or irregularly shaped areas.
Maanta is the ideal choice for any outdoor space.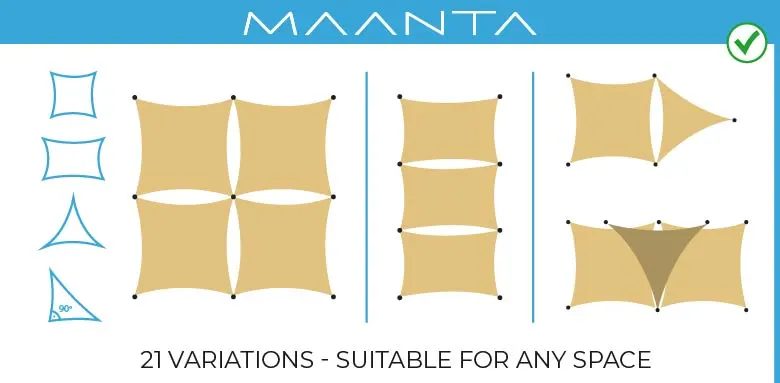 PERIMETER REINFORCEMENT
The sealed seams and tape that runs along the entire perimeter (unlike competitors) ensure perfect fabric tension.
The tarp is made with fabric that allows the entire perimeter of the tarp to be covered.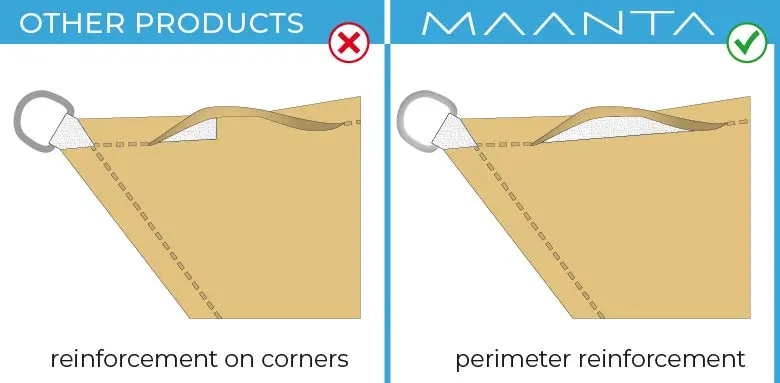 STAINLESS STEEL RINGS
Stainless steel marine rings provide security and durability for the tarp.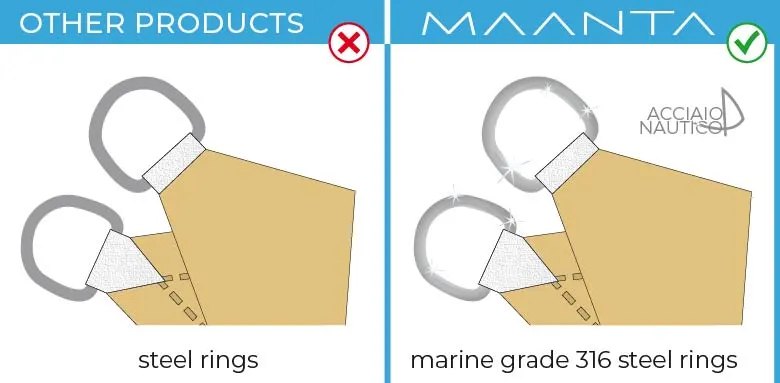 Guides & Info

GUIDES & INFO

TENSIONED SAILS
Correct tensioning is one of the most important factors during assembly
The advantages of a well-taut sail are:
better wind resistance (does not tear and does not wear fixings)
no pockets of water are created (waterproof sails)
greater longevity of the sail and fixings
Available sizes
Available sizes

3,0 x 3,0 (m)
4,0 x 4,0 (m)
5,0 x 5,0 (m)
5,5 x 5,5 (m)

3,6 x 3,6 x 3,6 (m)
4,0 x 4,0 x 4,0 (m)
5,0 x 5,0 x 5,0 (m)
6,0 x 6,0 x 6,0 (m)

3,0 x 2,0 (m)
3,0 x 4,0 (m)
3,0 x 5,0 (m)
3,0 x 6,0 (m)
3,5 x 4,5 (m)
3,5 x 5,5 (m)
4,0 x 5,0 (m)
4,0 x 6,0 (m)
4,5 x 5,5 (m)
4,5 x 6,5 (m)
5 x 6 (m)

4 x 4 x 5,66 (m)
5 x 5 x 7,07 (m)
Breathable Sail Comparison
MaantA Shade Sails - Breathable fabrics
EASY SHADE
SAILL
SOLARIA
TYPE OF FABRIC
VIRGIN HDPE POLYETHYLENE
VIRGIN HDPE POLYETHYLENE
VIRGIN HDPE POLYETHYLENE
FABRIC WEIGHT
180 gsm
320 gsm
320 gsm
ECO-COMPATIBILITY

5/5

3/5

3/5

MAX AREA
30 sm
36 sm
42 sm
PERSISTENCE OF COLOR

5/5

5/5

5/5

WIND RESISTANCE*
40-50 km/h
51-62 km/h
55-65 km/h
RESISTANCE TO
TEAR / HAIL

4/5

5/5

5/5

WATERPROOF

1/5

2/5

2/5

WATER RUNOFF
20%
40%
40%
CONDENSATION RISK
-
-
-
RESISTENCE TO
WATER COLUMN
0
0
0
PERCEIVED FRESHNESS

4/5

5/5

5/5

RESISTANCE TO MOLD

5/5

5/5

5/5

ABRASION RESISTANCE

4/5

5/5

5/5

RESISTANCE TO TENSION

4/5

5/5

5/5

UNIFORMITY TENSION

2/5

4/5

5/5

FABRIC CUT
in bands
in bands
radial cut
YEARS WARRANTY ***
2
3
4
COST PER SQM
ca 3€ al mq
ca 25€
ca 35€
CUSTOM SIZES AVAILABLE
NO
YES (+8€/mq)
YES (+8€/mq)
DISCOVER!
DISCOVER!
DISCOVER!
* with correct application of tension 45 kg for each corner
** with a minimum inclination of 1 meter
*** the guarantee is recognized for products installed as per our guides and only on manufacturing defects