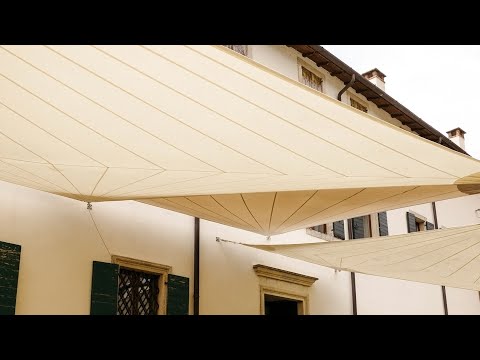 Kit wall mount Muscle x3 with traction booster
The Muscle x3 kit is the best wall anchor on the market because allows you to stretch any shade sail with great ease.
The Muscle x3 wall anchoring kit includes


Sturdy square steel plate (10x10cm), 2 D shackles, 1 pulley, 1 pulley with cam cleat, 4 meters of nautical rope
It guarantees a very high tension to the sail for greater resistance to wind and water
Sturdy wall plate (3mm thickness), thicker and bigger than to competing products
Well spaced and oversized holes
Description
The Muscle x3 kit is the best wall anchor on the market because allows you to stretch any shade sail with great ease.
This version differs as it is produced exclusively with stainless steel and therefore eternal.
What makes it different is the play between the pulleys created (read this content to learn more!) and that allows to reach the sail ring triple the force that we will apply to the rope .
With only 20 kg of tension produced the sail will stretch by 60 kg , which is already optimal for our sails. The larger pulley is equipped with a practical cleat , created to fit the line as soon as we finish exerting pressure. It will then be easy to remove and re-fit it if necessary.
The kit also includes a sturdy 10x10 galvanized or stainless steel plate, 2 galvanized or stainless steel D-shackles and 4 meters of quality nautical rope ..
The ideal installation of any shade sail certainly involves the use of this Muscle kit for each angle and an inclination of about 1 meter between the top and bottom sides to allow the sail to cut the wind and drain the water well .
View our
YouTube channel!
You will find installation guides and much more: click here!
Guides & Info

GUIDES & INFO

TENSIONED SAILS
Correct tensioning is one of the most important factors during assembly
The advantages of a well-taut sail are:
better wind resistance (does not tear and does not wear fixings)
no pockets of water are created (waterproof sails)
greater longevity of the sail and fixings
Advantages
Avantages

Functionality
Muscle x3, thanks to the multiplication of force, is the best tensioning system for shade sails on the market.

---

Adjustment
Thanks to the 4 meters of nautical rope it will be possible to keep the sail and anchor very close but it will also be possible to keep them away up to one and a half meters.

---

Robustness
The sturdy 2mm plate, the 6mm / 900 daN nautical rope, the oversized pulleys make it a safe, durable, definitive anchor.

---

Installation
Just follow the guides, and the kit will be very simple to install. The rope will release from the cleat simply by lifting it upwards.

Features
Features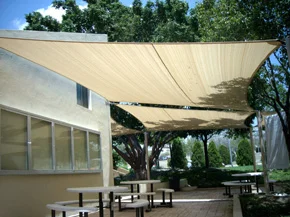 Just apply 20 kg of force on the top to provide a tension of 60 kg at each vertex, great for cutting the wind and draining the water effectively! Just lift the rope while keeping away from the kit to release from the stop!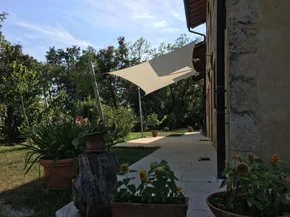 The 6mm / 900 daN rope is certainly oversized but will ensure safety and resistance over time.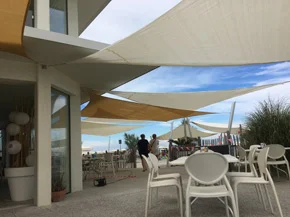 The multiplication provided by pulleys seems magical but has specific trigonometric sources.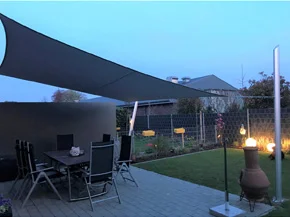 The stop / release system has been designed to be integrated. Just fit the line into the specific V to fix the sail and just lift the line up to free it from its seat.
Strengths
Strengths MaantA
TENSION
The Muscle x3 kit is the only one able to multiply the force thanks to the pulleys. By applying only 20 kg to the top, we will be able to tension the top of 60 kg, perfect for any shade sail!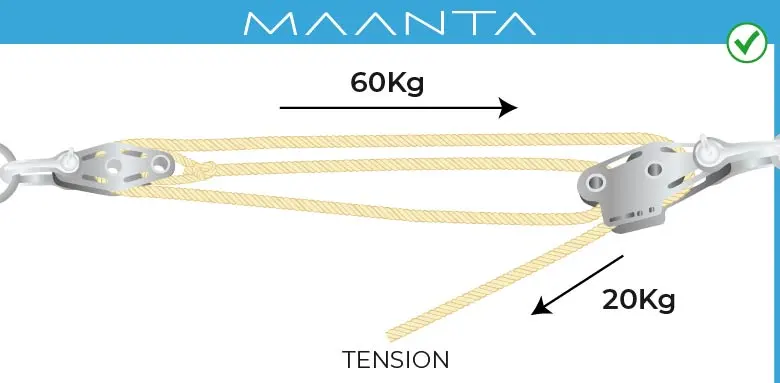 DESIGN
The system design is extremely clean and essential. An element integrates the cleat that effectively pinches the rope without damaging it.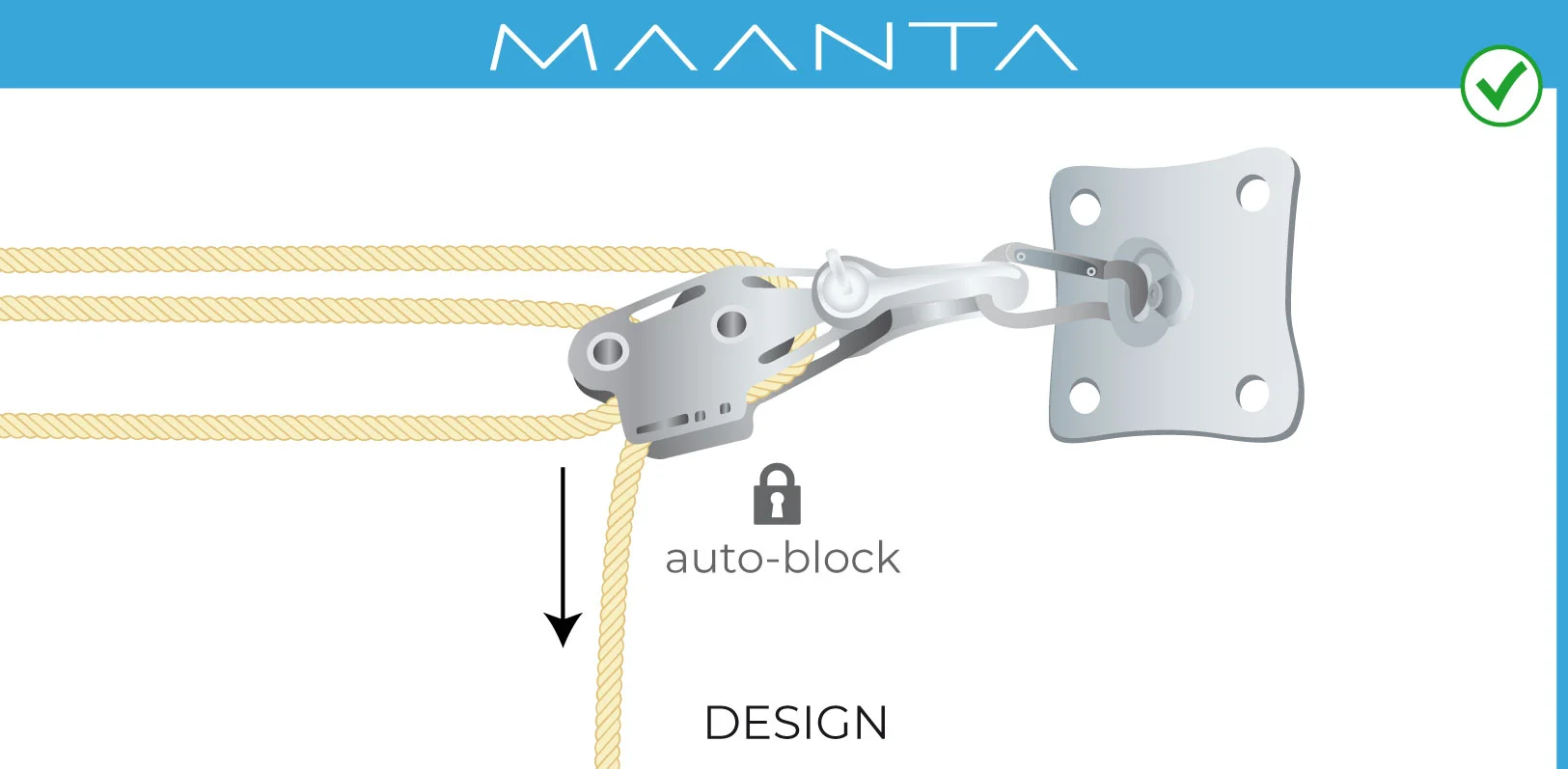 UNIVERSAL
This kit can be applied to any shade sail on market!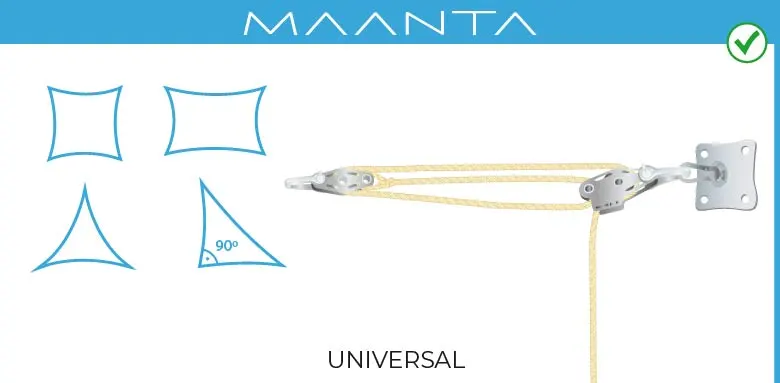 EASY TO INSTALL
The plate can accommodate 4 sturdy dowels or threaded rods, they are well spaced to provide better anchoring opportunities.
The thickness of the plate offers safety and strength.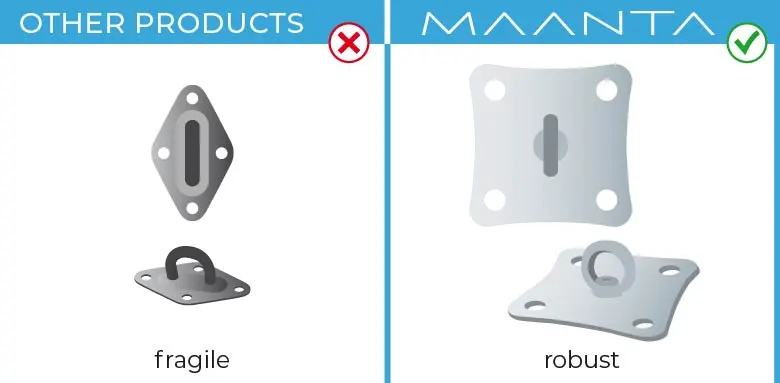 IMPROVEMENTS
The Muscle x3 kit allows for better water drainage, better wind resistance and very quick release.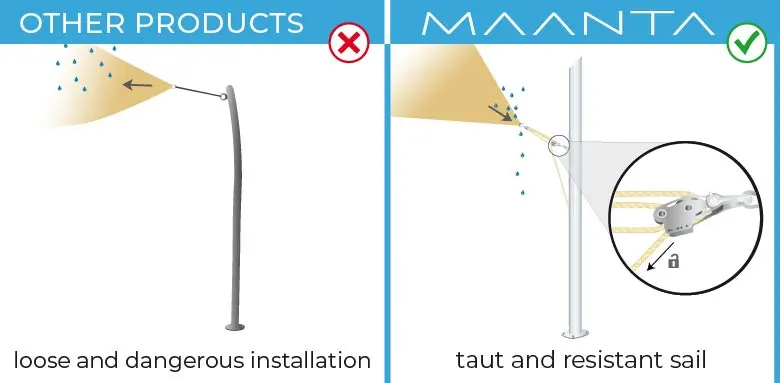 ADJUSTABLE LENGTH
It is possible to adjust the distance between the sail and the anchor in an efficient and fast way.
We can stay closer or further away from the wall according to our needs.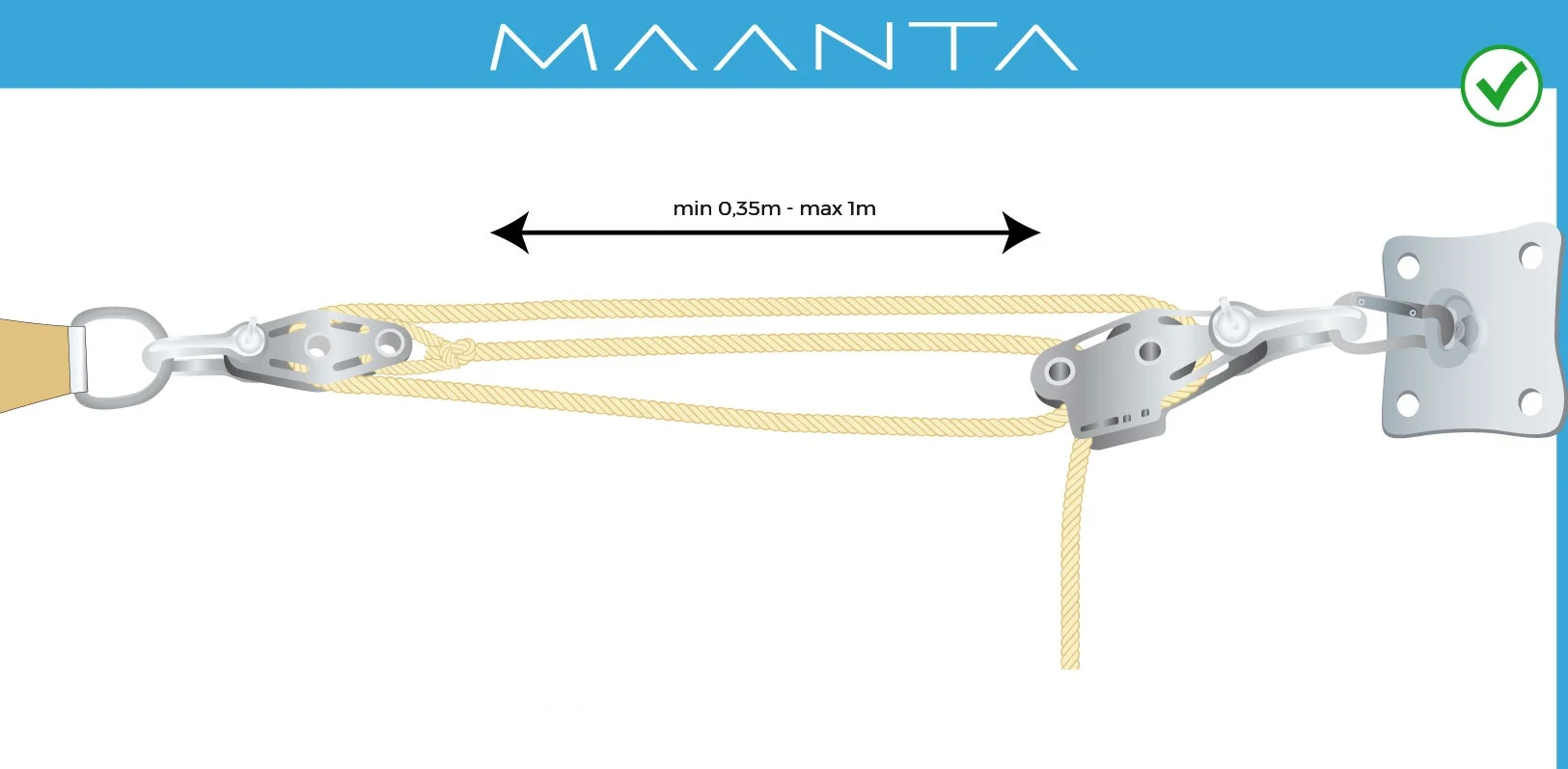 Instructions
Assembly instructions in PDF format with technical data, content and step-by-step instructions for assembling Muscle x3.
Sails catalogue
Maanta shade sails - Waterproof fabrics
Easy shade 2.0
Saill
Solaria
Type of fabric
Polyester
Purishade®
polypropylene (Olefin)
Purishade®
polypropylene (Olefin)
Fabric weight
160 gsm
270 gsm
270 gsm
Eco-compatibility

3/5

5/5

5/5

Sealed seams
Yes
Yes
Yes
Max area
30 m²
36 m²
42 m²
Persistence of color

3/5

5/5

5/5

Wind resistance
30-39 km/h
40-50 km/h
51-62 km/h
Resistance
to tear / hail

3/5

4/5

4/5

Waterproof

5/5

5/5

5/5

Water runoff
90%
100%
100%
Condensation risk

3/5

-
-
Water column
50 mm
500 mm
500 mm
Perceived freshness

2/5

4/5

4/5

Resistance to mold

3/5

5/5

5/5

Abrasion resistance

3/5

5/5

5/5

Resistance to tension

3/5

4/5

5/5

Uniformity tension

2/5

4/5

5/5

Fabric cut
In bands
In bands
Radial
Years warranty ***
2
3
4
Cost per sqm
ca 4€ / m²
ca 29€ / m²
ca 39€ / m²
Custom sizes
No
Yes (+8€/mq)
Yes (+8€/mq)
 
Discover!
Discover!
Discover!
* with correct application of tension 45 kg for each corner
** with a minimum inclination of 1m
*** the warranty is recognized for products installed as per our guides and only on manufacturing defects