Maistra base kit
Kit with 2 bases for the innovative Maistra gazebo
The Maistra gazebo becomes self-supporting by purchasing this optional base kit.
Maistra in the version with fixed installation can be assembled in a short time, it requires drilling the floor, anchoring it to the ground and therefore with threaded bars.
If it is not possible to drill, this base kit is the fastest and simplest solution. The kit includes two base-stands with associated stainless steel covers.
Robust and maintenance-free materials
304 stainless steel cover
Galvanized carbon steel profiles
Thickness of the profiles, 3mm
This product is no longer in stock with those attributes.
But is available with others.
Description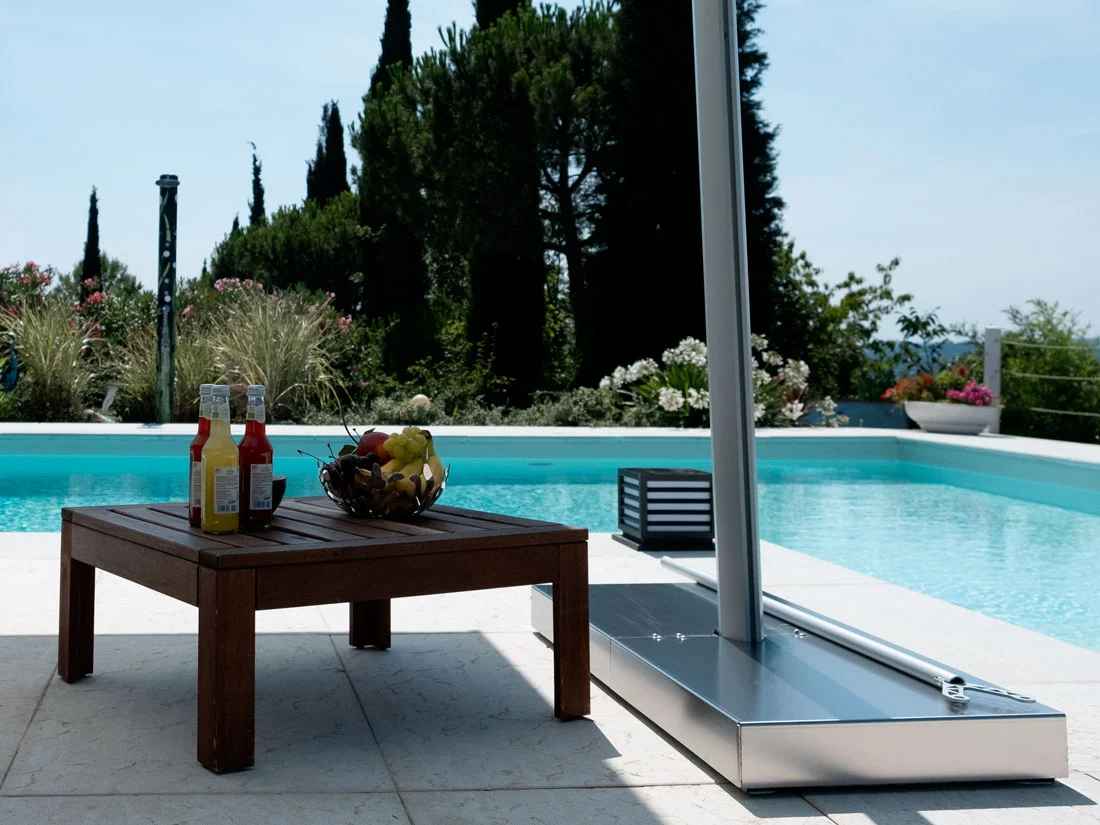 MAISTRA BASES: CHARACTERISTICS AND STRENGTHS
Many times the situation of roof installation does not allow drilling works, think of poolside, rather than on public ground, or even on the beach.
For these simple reasons we have made Maistra versatile and modular.

Thanks to the base kit, it is possible to make Maistra self-supporting.
The bases can be ballasted with simple concrete slabs, readily available at any brico or DIY store. (See technical specifications).
Assembly and installation requires no skilled labor.

THE VERSATILITY OF THE PRODUCT
Maistra's two poles can be fixed firmly to the ground by plinth or concrete surface.
Alternatively, in order not to drill holes or fix them permanently, this kit consisting of two supports and corresponding base cover can be used.

The materials are free from atmospheric actions, the galvanized carbon steel profiles are also ideal in areas subject to saltiness or frequent rain.
Moreover, having been oversized, they have unparalleled reliability. The satin-finished cover is made of 304 stainless steel, a detail not to be overlooked.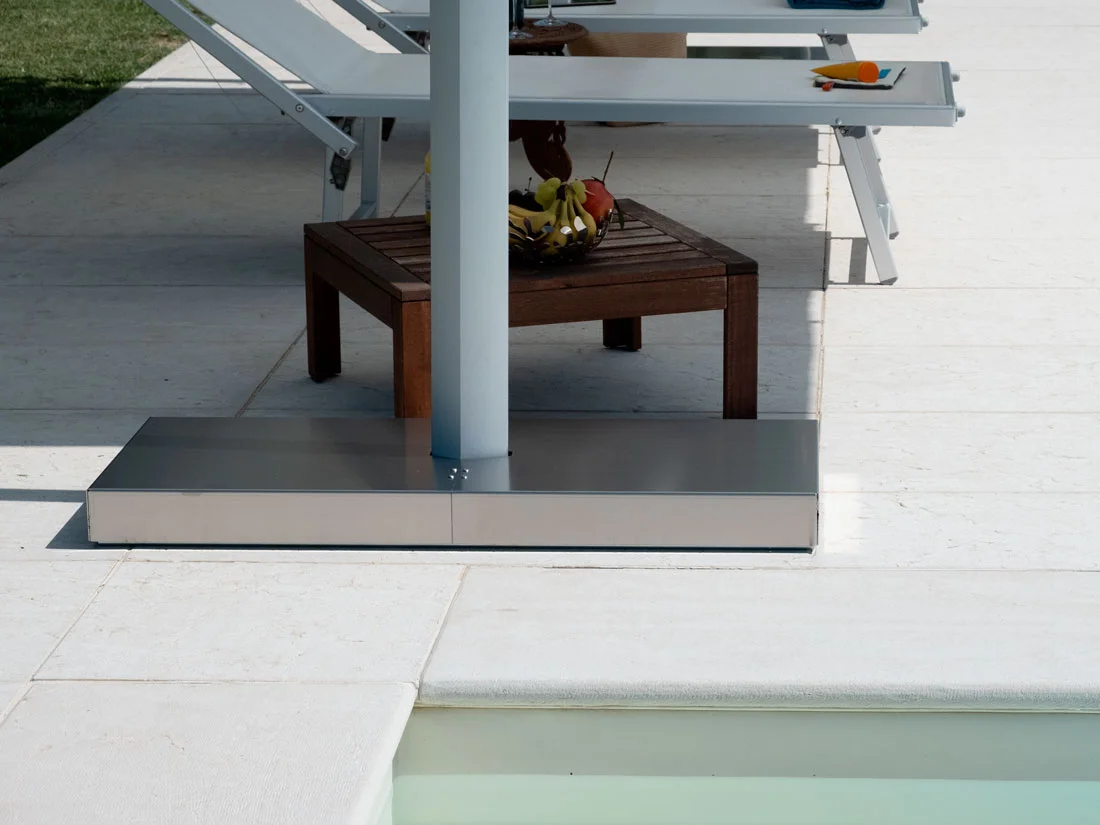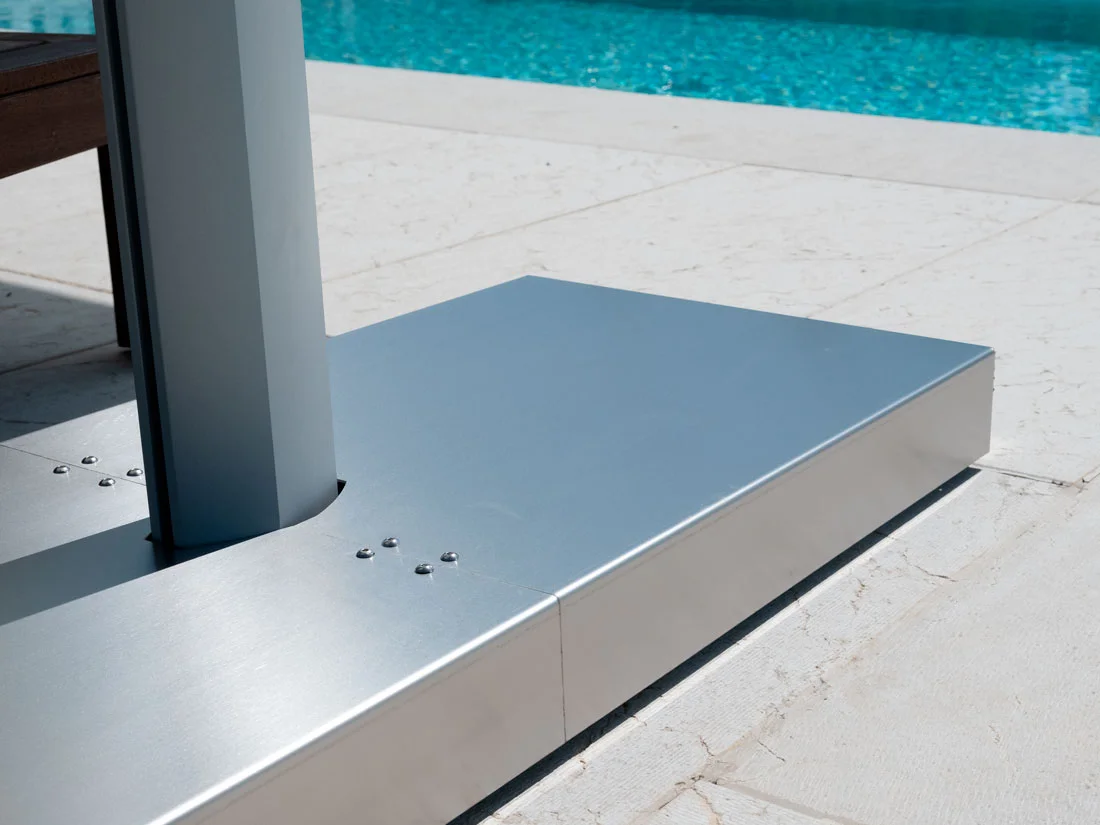 Data sheet
MAISTRA BASES KIT
The base kit is the optional accessory to make Maistra self-supporting.
With this accessory, the mounting of Maistra does not require drilling work; just use the connecting screws between the base of the pole and the support to attach the two poles.

The bases need ballast slabs easily available in any DIY store. We recommend they be concrete with size 40x40 cm, thickness 40 mm weighing about 14 kg each. A higher thickness could compromise the closure with the cover.
Four plates are needed for each support, thus a total of 8.

The base covers are made of sturdy 304 stainless steel and are walkable.
Satin-finishing has been added to prevent sun glare and contextually make the accessory a modern and aesthetically pleasing feature.

Data sheet
Model:
Maistra base kit
Dimensions:
107.6x43.6x8.0 centimeters
Weight:
Weight of the two structures: about 40 kg
Total weight with ballasts: 140kg
STRUCTURE
Structure material
Galvanized carbon steel
Cover material
304 stainless steel
Structure color
Silver from galvanizing
Cover colour
Gray satin stainless steel
Warranty:
2 years
PACKAGING
Box sizes
2 Boxes:
1: 106x9,8x6,7 cm
2: 5,5x45x9 cm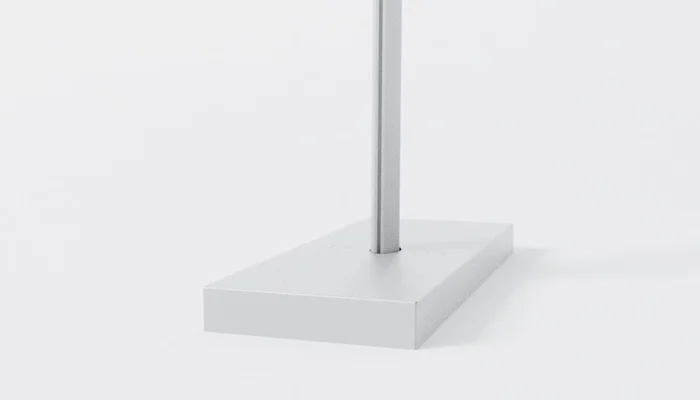 Package contents and giveaways
INCLUDED ELEMENTS
Each Kit contains
 - 2 bases (galvanized steel)
 - 2 base covers (stainless steel)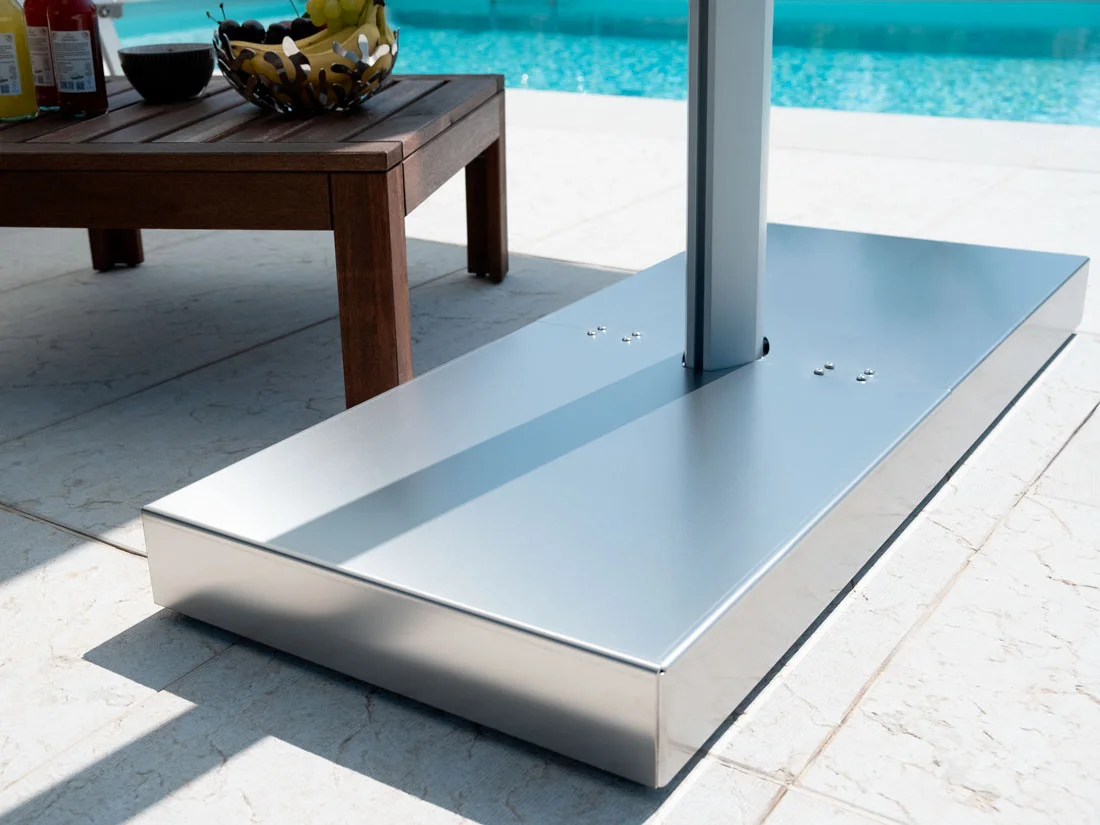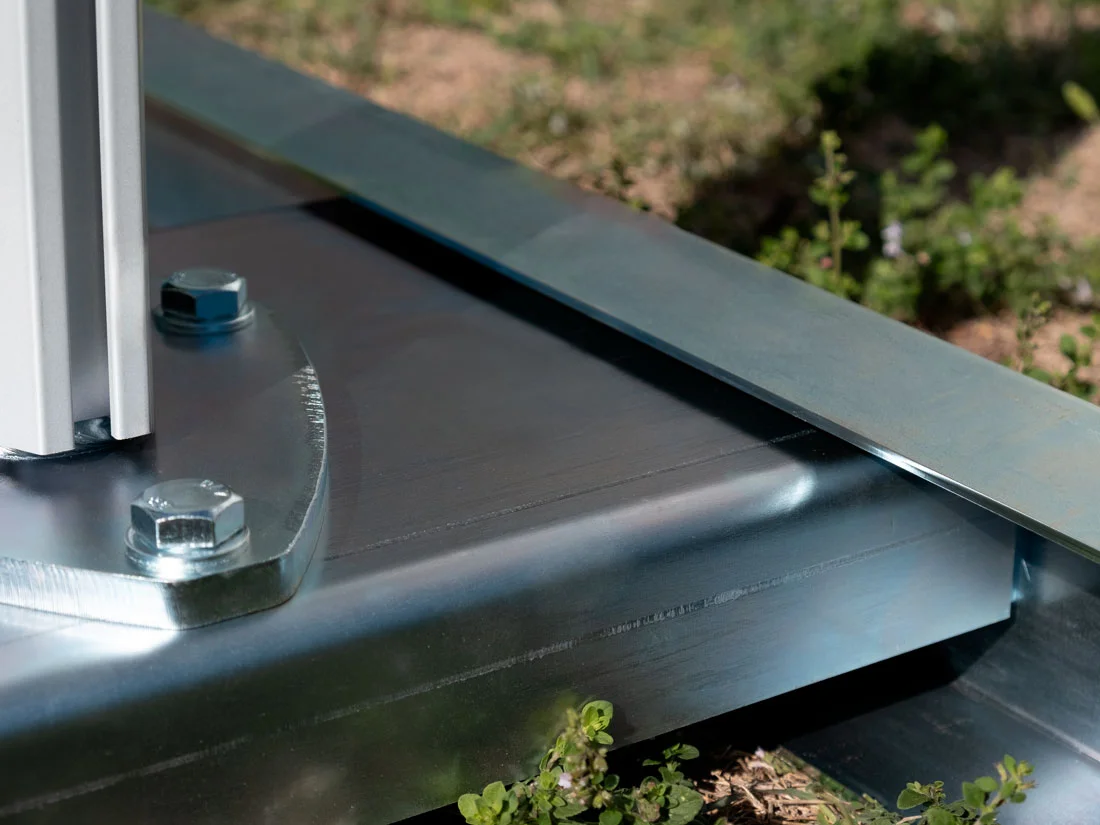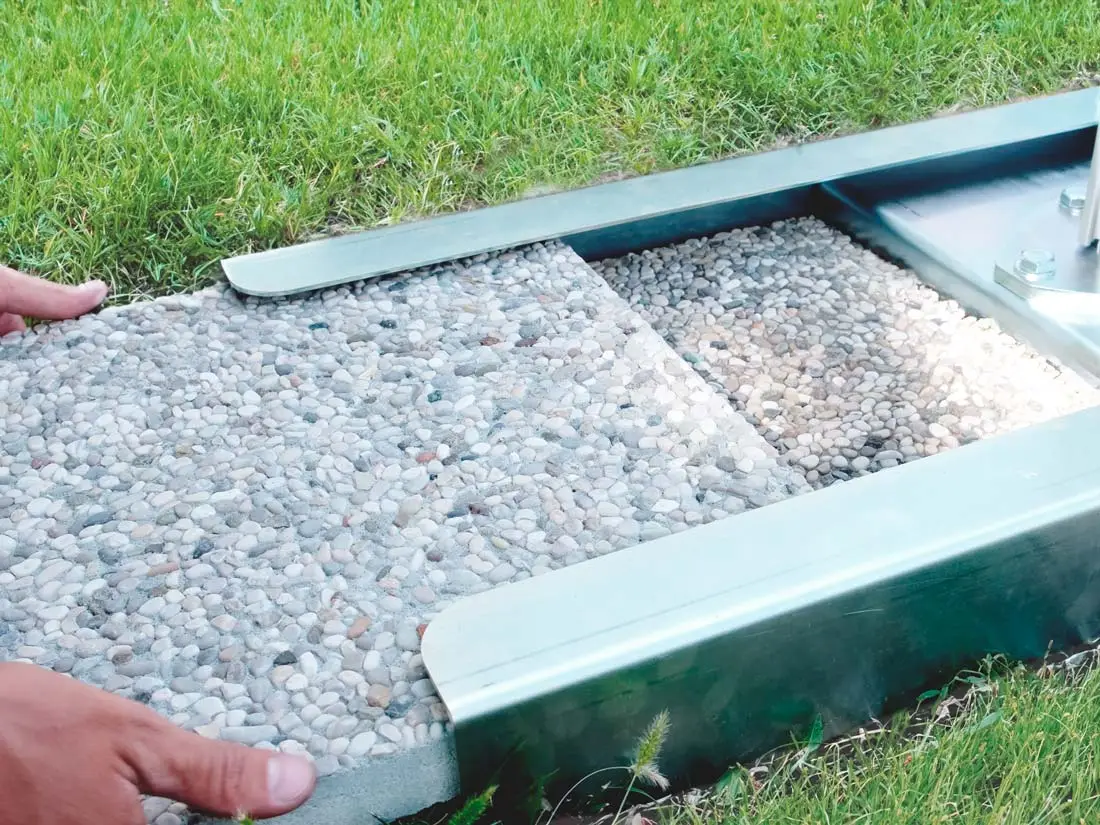 To improve transportation and unloading of the material, ballasts to be used in the Maistra base kit are not included.

The ballasts are simple concrete slabs that can be found in any DIY store.
The size is standard, 40x40 cm and the thickness is normally 40 mm.
We recommend a ballast of about 50 to 60 kg per base.

Maistra base kits do not support slabs thicker than 40 mm, they may not make the satin sheet metal cover close.

Four slabs are sufficient for each support, so a total of 8.
Instructions & Info
PRODUCT ASSEMBLY VIDEO
Assembling Maistra's bases is simple and requires no special equipment.
We have made a step-by-step video tutorial that will take you through each step during the assembly of the entire Maistra, starting precisely with the optional basics.
The video is available here or on the "Assembly Tutorials" playlist in the Maanta Outdoor YouTube channel.
Maistra still comes with printed assembly instruction guides.
ASSEMBLY INSTRUCTIONS IN PDF FORMAT
Installing the Maistra gazebo base kit is simple, intuitive and fast.
Maanta's research and development team is very focused on making easily assembled components.
Paper instructions are always provided inside the package.
PDF instructions are also available and downloadable from the following links.
All online instructions are constantly updated through feedback from buyers.